Offering an improved supply-chain cost management and increased time-to-market business opportunities, liquid crystal display television (LCD TV)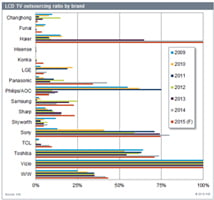 Source: IHSmanufacturers are increasingly turning to outsourcing specialists as part of their core business strategy, according to a new report from IHS.
IHS forecasts that of all the LCD TVs shipped globally this year, 43% will come from outsourcing, an industry record. Deborah Yang, director of display supply chain analysis at IHS, says in a statement that a major driving force behind the TV outsourcing trend "is the constraint on TV panel supply, which can cause TV brands to increase their outsourcing from vendors who are able to secure a stable and competitive panel supply."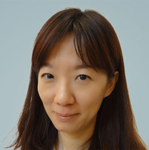 Deborah Yang, IHS The tightness in the supply chain began in 2014, leading to top TV brands using subcontract manufacturers in China, specifically BOE and TCL. Both of these subcontract manufacturers have direct access to 32-inch panel suppliers from captive panel makers. This is "welcome news to Chinese TV makers looking to not only grow their branded TV businesses, but also to expand their businesses with TV brands globally," Yang says.
IHS says South Korean TV brands plan to maintain or lower their in-house backlight-module-system (BMS) capacity and production in overseas factories. They plan to use their captive capacity for more mainstream products and for the production of 4K resolution, curved screens, wide-color gamut (WCG) and other high-end products.
Yang says that most TV brands plan to increase their outsourcing from vendors for low-cost entry-level products, a business model that Japanese TV brands have been following for some time.
Questions or comments on this story? Contact engineering360editors@ihs.com
Related links:
News articles:
4K Panel Shipments Hit Record in April, IHS Says
Samsung, LG, Sony to Dominate Flat Panel Shipments in 2015
MediaTek Rolls SoCs for Android Wearables, TVs
Explosive Growth Set for Quantum Dot LCD TVs