It is a difficult time for makers of liquid crystal displays television (LCD TV) panels with TV set makers declining demand for panels and the display supply chain contracting. Unfortunately for makers, this downward trend is expected to continue into 2016 with demand dropping 3% over the course of the year, according to a new report from IHS.
The decline in panel demand is the result of TV brands continual panel inventory control as well as continued global economic uncertainty.
"TV panel inventory adjustments will continue into the first half of 2016, because more manufacturing capacity will be coming online, especially in China," says David Hsieh, senior director for displays at IHS. "Global consumption is stagnant and the replacement cycle is slow, which will not support strong growth in the coming year."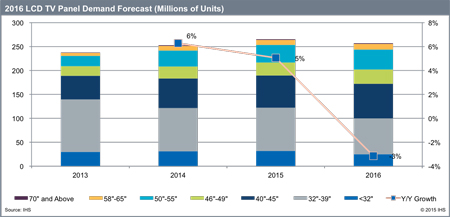 In the first half of this year, 134 million LCD TV panels were shipped. Beginning in the second half of 2015, prices declined but panel makers continued to maintain capacity utilization to produce even more panels. At the same time, panel makers reduced panel prices in order to encourage TV brands to keep buying for the short-term and the upcoming holiday season.
"All of these factors will have a negative impact on LCD TV panel demand in 2016," Hsieh says. Panel shipments have surpassed LCD TV set shipments by double digits for three consecutive years and with the current uncertainty in the market, TV makers are expected to be more conservative in their 2016 planning, he says.
Area Demand to Rise
Meanwhile, area panel demand would not suffer the same fate in 2016 as it will reach 125.9 million square meters, a 3% increase from 2015. If organic light emitting diode (OLED) TV panel area is included, this growth reaches 4%, IHS says.
"The collapse of panel prices in the second half of 2015 is encouraging panel makers to shift their product mix, because smaller panel sizes will experience deep losses," Hsieh says. "Panel makers will be spurred to produce larger panels, which are more profitable, rather than stick with smaller panels with deeply eroded profitability."
Questions or comments on this story? Contact engineering360editors@ihs.com
Related links:
Display Long-Term Demand Forecast Tracker
News articles:
Touch Gesture Motion and Emerging Display Conference
Falling Profit Margins Create Problems for Large-Area TFT LCD Makers
Apple's iPad Pro Will Go to War Against Notebook PCs