Despite a slowdown in smartphone market growth, demand for low temperature polysilicon thin-film-transistor liquid crystal displays (LTPS TFT LCDs) remains high thanks to the Apple iPhone 6 and iPhone 6 Plus, according to a new report from IHS.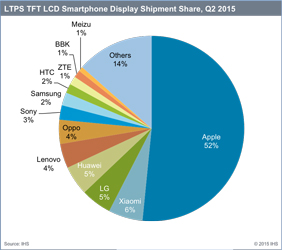 LTPS TFT LCD market share by company. Source: IHSShipments of LTPS TFT LCD displays grew 31% in the first year of 2015, reaching 251 million units. Of these, displays for the iPhone accounted for 52% of all LTPS TFT LCD smartphone display shipments in the first half of 2015, IHS says. This is, by far, the largest percentage in this display type and is indicative of the influence Apple has in the smartphone market.
As a result of this increased demand for this type of display, manufacturers are investing in new fabs to increase future production capacity of LTPS TFT LCDs. However, these display manufacturers are also investing in high-resolution active-matrix organic light emitting diode (AMOLED) displays as these displays are also increasing in demand among smartphone OEMs and consumers, IHS says.
Hiroshi Hayase, director of small medium displays at IHS, says the adoption of wider displays

Hiroshi Hayase, director of small medium displays at IHS with higher resolution in the latest iPhone series helped spur demand for LTPS TFT LCDs. Due to this, "Apple competitors are also now increasing orders of high-resolution displays." Hayase says.
Increase production of LTPS TFT LCDs is one of the reasons as to why other flat panel display (FPD) types are suffering in 2015 and will see a decline in revenue for overall FPDs this year, IHS says (Read: Decline in Flat Panel Display Revenue Expected in 2015).
Questions or comments on this story? Contact engineering360editors@ihs.com
Related links:
IHS Smartphone Display Market Tracker
News articles: