A team of researchers at the University of Wisconsin-Madison, working in collaboration with researchers from the U.S. Department of Agriculture Forest Products Laboratory (FPL), have developed a biodegradable semiconductor chip made almost entirely of wood.
The development could have important ramifications for future flexible electronics, according to the research team.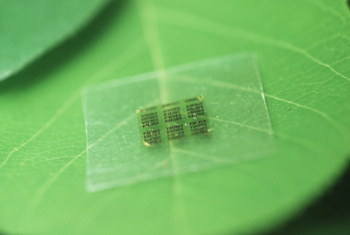 The biodegradable chips could have a positive effect on the environment. Source: University of Wisconsin-MadisonThe device is described in a paper published in the journal Nature Communications. The paper argues the feasibility of replacing the substrate of a semiconductor with cellulose nanofibril (CNF), a flexible, biodegradable material made from wood.
"The majority of material in a chip is support," says Zhenqiang "Jack" Ma, an electrical and computer engineering professor at the University of Wisconsin-Madison and leader of the research team. "We only use less than a couple of micrometers for everything else. Now the chips are so safe you can put them in the forest and fungus will degrade it. They become as safe as fertilizer."
The biodegradability of the materials used in such a chip could have a positive effect on the environment, since the CNF would replace the gallium arsenide used in current wireless chips. Gallium arsenide can be environmentally toxic, particularly in mass quantities.
But Ma says the flexibility offered by the technology may be a bigger reason for widespread adoption.
"Mass-producing current semiconductor chips is so cheap, and it may take time for the industry to adapt to our design," Ma says. "But flexible electronics are the future, and we think we're going to be well ahead of the curve."
Questions or comments on this story? Contact: dylan.mcgrath@ihs.com
Related links and articles:
IHS Technology Semiconductors & Components Page
News articles: