By proclaiming 2015 as the International Year of Light, the United Nations General Assembly in December 2013 recognized the importance of raising global awareness about light-based technology. LightFair 2015—held in New York in early May—gave credence to that notion.
Keynote speakers covered the latest innovations, sciences and architectural designs. Perhaps not surprisingly, smart lighting—meant to promote energy efficiency by enabling autoautomated moted and remote control of lights via wireless technology—was the talk of the show.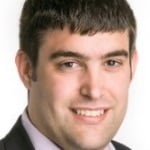 William Rhodes
"Smart lighting is the name of the game now," says William Rhodes, manager for lighting and LEDs at IHS Technology. "We see more players entering this realm with interesting solutions that are designed for energy efficiency."
At LightFair, North American lighting leader Osram Sylvania's OmniPoint LED luminaire was recognized with an Innovation Award for the most innovative product of the year. OmniPoint luminaire is a wireless, array-based LED lighting luminaire consisting of an array of independently controllable LEDs that can switch on/off and dim in coordination with the others in any combination. It produces ambient and spot lighting from a single light package at the same time.
The light output and placement are reconfigurable via a wireless device and Android app. As a result, the user has the ability to quickly adjust the effective beam direction and angle, beam shape and distribution at the touch of a finger, rather than requiring a ladder and the extensive time needed to manually adjust various light sources.
Meanwhile, Soraa has incorporated the option of wireless control into its product line, starting with the company's PAR30L (long neck) LED lamp, which has customizable remote functions including dimming, control of lamps in user-defined groups, and user-designed preset lighting scenes. "With omni-directional light sources, the impact of this is still quite limited; however, directional sources create the ability to locally dial-in light levels," says Jeff Parker, CEO of Soraa.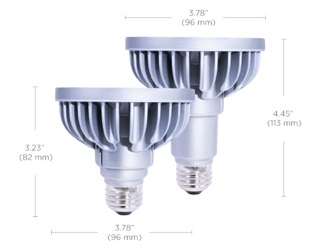 Soraa's wireless PAR30 lamps. Source: SoraaSoraa will offer its wireless PAR30L lamps in combination with a mobile application that runs on both iOS and Android platforms, and the lamps can form a mesh network and connect in almost unlimited numbers to a smart phone. The lamps can interact directly with smartphones using Bluetooth Smart, without the need for a bridge or router and complicated setup. The lamps can be operated in public mode and private mode, where access is restricted.
The company will also provide a unique wireless and portable control to replace the traditional wall dimmer switches. Equipped with a multitude of sensors, Soraa Control, developed by Seed Labs, provides an intuitive way to interact with lights without a smartphone, and because it operates on battery power, it can be placed where it is most desired.
"Seed Labs' innovative technology changes the way spaces are wired, controlled, and connected," said Rafal Han, CEO and co-founder of Seed Labs Inc. "Lighting is the perfect user preference product, so we are very excited about our new collaboration with Soraa."
Soraa's PAR30L wireless LED lamps are to provide a superior replacement for legacy halogen products. They will be available in the third quarter and are offered in correlated color temperatures of 2700K and 3000K with a color rendering index of 95.
Soraa's full spectrum LED lamps are said to have superior color rendering and beam characteristics compared to lamps using LEDs created from non-native substrates. The company's three founders (Shuji Nakamura, inventor of the blue LED; Steven DenBaars, founder of Nitres; and James Speck of U.C. Santa Barbara's college of engineering) pioneered lamps using LEDs built from pure gallium nitride substrates (GaN on GaN), which the company manufactures in its state-of-the-art facility in Goleta, Calif.
Before Soraa, all LEDs worldwide were made of GaN crystals grown onto a dissimilar substrate —usually sapphire or silicon carbide.
In his Lightfair keyote, Nakamura, the 2014 Nobel Prize Winner in physics, covered the history of LED technology, including the next wave of solid state lighting. Nakamura is also a professor at University of California-Santa Barbara.
The Connected Lighting Alliance is the primary advocate of wireless connectivity in lighting applications. It has 34 members, which include the leading lighting companies worldwide. Its mission is to promote the global adoption and growth of wireless lighting solutions by supporting open standards.
Related links:
News articles: