Infrared cameras are used to detect heat, usually, the heat coming off of people or dangerous heated objects, in dark or hard to see areas. Drones often use infrared cameras to find targets.
Infrared detection is about to get a lot harder. Researchers from the University of Wisconsin-Madison have developed a new cloaking material called a "stealth sheet" that is a huge improvement in hiding heat from infrared cameras.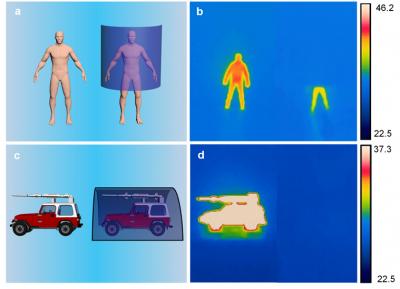 A newly developed stealth sheet can hide hot objects like human bodies or military vehicles from infrared cameras. (Source: HONGRUI JIANG)
The stealth sheets is less than one millimeter thick, is made of black silicon and absorbs 94 percent of all the infrared light that hits it. Warm objects, like a person, that are hidden under the stealth sheet are almost completely invisible to infrared light. The sheet absorbs light in the mid- and long-wavelength infrared range. The heating elements in the sheet are key to creating a disguise to trick the infrared cameras.
Black silicon is a material that is typically used in solar cells to capture and trap light. Black silicon absorbs light because it is made of millions of microscopic needles, called nanowires, that point upwards. Light is reflected back and forth between the vertical spines, trapping the light.
The stealth sheet is the first time the black silicon has been used to trap infrared light. The absorptive properties of the material are key to making the stealth sheet work. The team managed to boost the absorption properties even more with a tweaked production method.
"We didn't completely reinvent the whole process, but we did extend the process to much taller nanowires," says Hongrui Jiang, professor of electrical and computer engineering at the University of Wisconsin-Madison who developed the material in National Science Foundation-supported facilities at UW-Madison.
The nanowires that the team created were made by using tiny particles of silver to etch down a thin layer of solid silicon, creating a tall thicket of needles. The nanowires and silver are the materials that absorb the infrared light.
Black silicon has a flexible backing with small air channels that stop the sheet from heating up too quickly, making it suitable for long-lasting wear.
The paper on the stealth sheet was published in Advanced Engineering Materials.