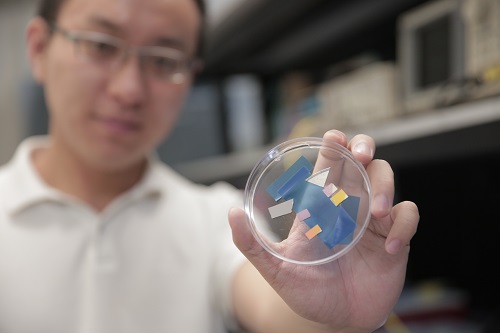 The new photodetector could enable a new generation of optoelectronics. Image credit: University of Wisconsin-Madison
Researchers from the University of Wisconsin-Madison (UW-Madison) have developed a nanoscale photodetector that combines a new fabrication method and light-trapping structures.
The device consists of nano-cavities that are sandwiched between a top layer of ultra-thin single-crystal germanium and a reflecting layer of silver.
In optoelectronic devices, such as camera sensors or solar cells, smaller is better. But two major challenges stand in the way: First, shrinking the size of conventionally used thin-film materials also reduces their quality, and, second, when these materials get too thin, they become almost transparent and lose some ability to gather or absorb light.
The idea of the UW-Madison researchers is to make a very thin material realize the same function of very thick material.
"Because of the nano-cavities, the photons are 'recycled' so light absorption is substantially increased — even in very thin layers of material," said Zhenqiang Ma, electrical engineer professor at UW-Madison.
Nano-cavities are made of an orderly series of tiny, interconnected molecules that reflect light. These structures increase the amount of light that thin semiconducting material like germanium can absorb. But because germanium thin films begin in an amorphous form, its quality isn't sufficient for increasingly smaller optoelectronics applications.
Ma and the other researchers used a membrane-transfer technology that allowed the team to easily integrate single crystalline semiconductor materials onto a substrate. This resulted in a thin but effective light-absorbing photodetector that could be useful for future optoelectronics.
This development could be used to develop a whole new host of different, next-generation optoelectronic devices.