The 28nm CMOS logic node is, thus far, without a practical high-capacity embedded non-volatile memory (NVM) option, but a research paper prepared jointly by engineers from Panasonic Corp. and the IMEC research institute could change that.
Resistive RAM (ReRAM) comes in many forms and includes many material systems. It has been the subject of much research over the last decade because it was predicted that NAND flash memory would fail to scale beyond critical dimensions of 20nm.
NAND flash has become more difficult to scale and is moving to 3D structures for improved density for discrete memories. However, for embedded NVM, there is still an opening for a high-density, reliable NVM that is easy to integrate with CMOS logic at 28nm. That compatibility includes low voltage operation—to avoid charge pumping circuits—and thermal compatibility with CMOS processing.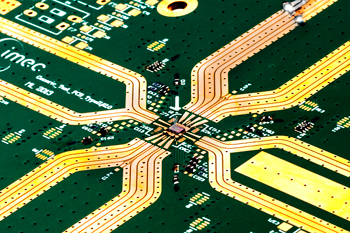 Imec-Panasonic presented their 28nm CMOS 79GHz transceiver chip for phase-modulated continuous-wave radar. Source: Imec
The Panasonic-IMEC team is planning to present a paper on a tantalum oxide-based ReRAM for 28nm embedded applications at the 2015 VLSI Technology Symposium. The paper is described in the conference technical program.
The paper is scheduled to appear in Session 2 of the conference, which takes place June 16 to 18, in Kyoto, Japan. Session 2 is reserved for "highlights" of the conference.
The researchers are working with tantalum oxide, a transition metal oxide well known for exhibiting filamentary switching based on the movement of ionic oxygen vacancies. The researchers claim the application of newly-developed process technologies and cell structures have allowed precise location of the filament in the center of the memory cell. This has also allowed the team to confirm the feasibility of the cell for a 20nm process node.
The paper discusses results for a 2Mbit ReRAM test memory array, claims 100K endurance cycling and 10 years of memory retention at 85°C.
Although Panasonic's semiconductor operations have been going through a significant reorganization, it is one of few companies with experience selling a form of ReRAM into the commercial market. Panasonic has been offering the MN101L microcontroller with 64kbytes of ReRAM since 2013.
Panasonic and other proponents claim ReRAM offers five times the write speed of flash or EEPROM memory without the need for an erase cycle. This, in turn, allows programs to finish quicker, the MCU to return to being switched off and longer operational times in battery powered devices.
According to reports, the microcontroller is fabricated at Panasonic's former Tonami fab using a 180nm CMOS process. The Tonami fab is now operated as a joint venture with Tower Semiconductor Ltd. (In 2014, Panasonic transferred three wafer fabs into a joint venture with Tower and created a fabless joint venture chip company with Fujitsu called Socionext.)
IMEC, which has leading-edge production facilities for research, is likely to process the wafers for the research. It remains unclear which companies are likely to integrate this memory—or something similar—into a 28nm CMOS process.
The world's leading foundry, Taiwan Semiconductor Manufacturing Co. Ltd. (Hsinchu, Taiwan), offers embedded flash memory down to the 65nm/55nm process generation as an NVM option. According to its website, TSMC is developing embedded flash for its 40nm and 28nm process nodes.
Meanwhile, the number of companies developing ReRAM options—often fabless and in need of a foundry to port their technology to—is large. Adesto Technologies Corp. (Sunnyvale, Calif.) has been in the market for a few years with its conductive bridging RAM (CBRAM) based on copper ionic transport. This is made for the company by Altis Semconductor SA, which has CMOS manufacturing capacity down to 130nm CMOS.
Micron Technology Inc. and Sony Corp. are working together on a 16-Gbit ReRAM, based on copper ion movement and filament formation, but for discrete memory applications. Fabless startup company Crossbar Inc. has a memory based on the movement of silver ions through an insulating amorphous silicon to form a filament and it is pursuing both discrete memory products and embedded memory licensing. And Rambus Inc., which works solely as an intellectual property licensor, has been working on metal-oxide based ReRAM for three years since it acquired Unity Semiconductor Corp. in February 2012.
Questions or comments on this story? Contact: peter.clarke@ihs.com
Related links and articles:
News articles: