Bosch became the first vendor to sell more than $1 billion worth of microelectromechanical systems (MEMS) sensors and actuators in a year in 2013 as the company broke a virtual dead heat with STMicroelectronics to assume the No. 1 position among MEMS vendors, according to a new analysis from IHS.
Bosch posted roughly $1 billion in MEMS revenue in 2013, up 26 percent from $794 million in 2012, IHS said. Bosch grew four times faster than the industry average in 2012, enabling the German firm to lay claim to the No. 1 spot in the market after finishing in a virtual tie with STMicroelectronics in 2012, IHS said.
ST, which finished as the second largest supplier of MEMS last year, saw its MEMS revenue decline by 2 percent to $777 million, according to IHS.
Combined, the top 20 MEMS producers in 2013 accounted for revenue of $6.99 billion, or 78 percent of the industry total of $8.96 billion, IHS said.
Jeremie Bouchaud, director and senior principal analyst for MEMS & sensors at HIS, said Bosch rose to the top of the rankings thanks largely to its position as the No. 1 supplier of MEMS to the automotive market, where Bosch offers a full line of products. Automotive accounted for 74 percent of MEMS revenue for Bosch in 2013, IHS said.
"Bosch is also well-positioned in combo sensors that integrate accelerometers and gyroscopes for electronic stability control systems in cars, along with a growing presence in China," Bouchaud said.
IHS said the majority of Bosch's 2013 MEMS growth came from the company's Bosch Sensortec subsidiart, which focuses on consumer and mobile applications. For example, IHS said, Bosch Sensortec dominated the accelerometer market for smartphones among Chinese handset makers and was also supplying accelerometers into the Apple iPhone 5s and 5c, and the Apple iPad air. Bosch Sensortec was also the top supplier of pressure sensors for Samsung handsets and tablets, IHS said, and started shipping in volume 6-axis inertial measurement units (IMU) for accelerometers and gyroscopes in a combo package to Sony, Samsung and HTC.
Bosch's billion-dollar revenue marks the first time that a MEMS company reached this elevated position in light of its own products without counting MEMS foundry revenue, according to IHS. ST saw total MEMS revenue of $1.014 billion in 2012, but that included $220 million of MEMS foundry revenue, generated from making MEMS products on a contract basis for customers, IHS said.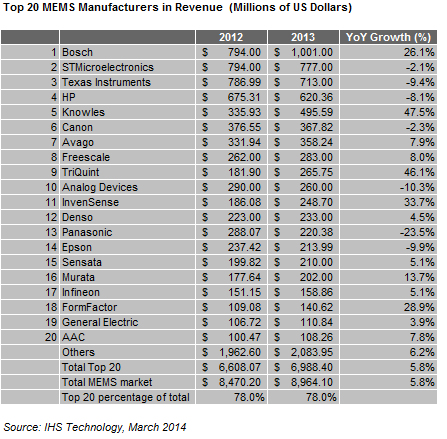 Bouchaud said ST's 2013 MEMS revenue decline was due mostly to a fall in accelerometer sales after the company lost its accelerometer business with Apple to Bosch.
In addition to Bosch, other MEMS providers to show strong gains in sales in 2013 included Knowles Electronics, Freescale Semiconductor, TriQuint, InvenSense, Murata and FormFactor, according to IHS.
Knowles, which finished the year fifth in MEMS sales, grew its MEMS sales 48 percent in 2013, the highest growth rate among the top 20 vendors, IHS said. Knowles is the industry's top microphone supplier, and its growth was spurred by an increased presence in the iPhone 5s and 5c (Knowles supplies two of its three microphones), IHS said. Knowles also benefitted from a solid position in the booming Chinese smartphone market and shipments of a new generation of higher-performance microphones to Apple and Samsung, according to IHS.
Eighth-ranked MEMS vendor Freescale has now recovered fully from the earthquake that struck its Sendai, Japan, fab in 2011, IHS said. Freescale transferred its MEMS production to its Oak Ill fab in Texas and it has been able to maintain strong partnerships with customers after the disaster, especially in airbags, IHS said. Freescale is also growing its tire-pressure monitoring systems and accelerometer business for both the industrial sector and tablets in Asia, IHS said.
Oregon-based Triquint, which ranked ninth in MEMS sales in 203, saw its MEMS sales increase 46 percent to $181.9 million, IHS noted.
In addition to ST, other vendors to post MEMS revenue declines in 2013 included No. 3 Texas Instruments, fourth-placed Hewlett-Packard Co., Canon, Analog Devices; Panasonic and Epson, IHS said.
Related stories: