Thanks to design wins in Apple products, Bosch maintained its leadership in microelectromechanical systems (MEMS) in 2014, with sales growing nearly 17% to reach $1.17 billion, according to IHS Technology. In a fragmented market, Bosch increased its market share to 12% in 2014, up from 11% in 2013, IHS said.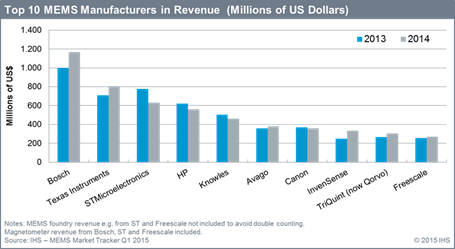 IHS reported that Bosch's leadership position in MEMS is the strongest example of Apple's influence over the MEMS market. After capturing the market lead in 2013 on the strength of accelerometer design wins in the iPhone 5 and iPad, Bosch boosted its fortunes after its systems were incorporated in the iPhone 6 and 6+ in 2014.
Bosch also enjoyed a strong motion combo sensor growth in 2014 with design wins in Sony's PS4, as well as in Sony handsets and tablets. The consumer MEMS market accounted for a third of the company's MEMS sales in 2014, up from less than 18% in 2012, according to IHS.
But the automotive business still dominates Bosch's MEMS revenue. A full 67% of the company's MEMS revenue in 2014 was from the automotive market, where it is the undisputed leader with a 30% market share, IHS reported. In addition, Bosch's automotive MEMS revenue in 2014 was more than three times that of its nearest competitor, Denso.
For MEMS vendors, Apple design wins carry significant value. Jérémie Bouchaud, senior director for MEMS and sensors at IHS, said being designed into an Apple product is a boon for MEMS vendors beyond the sales that Apple's high-profile products are virtually guaranteed to generate. "Once you are designed into Apple with your sensor, you definitely win a certain status and it helps winning other businesses," Bouchaud said.
For example, Bouchaud said, STMicroelectronics had a very narrow handset customer list for its MEMS microphones—mostly Nokia and HTC. But now that ST has been successful in securing slots in Apple products, ST's microphones are getting more traction with other OEMs, including Chinese firms, he said.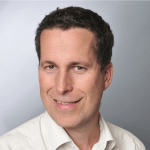 Jeremie Bouchaud
Apple's influence on the MEMS industry was felt by other companies in 2014, too. STMicroelectronics saw its MEMS revenue decline by 19% last year after losing slots in the latest iPhone. IHS stated that ST lost its slots in the latest iPhone for the accelerometer in 2013 as well as the gyroscope in 20144.. As of now, ST is the No. 3 vendor of MEMS, but remains as the No. 1 MEMS manufacturer for consumer and mobile applications, holding some 15% of the market, according to IHS.
ST was able to mitigate the damage from the lost iPhone design slots by winning 100% of the pressure sensor slots in the Samsung Galaxy S5, IHS added.
IHS believes that ST has laid the foundation for a rebound of its MEMS business in 2015. The firm's MEMS microphone business is growing rapidly thanks to a design win in the iPhone 6 as well as its existing microphone sales into the iPad. ST's MEMS microphone shipments grew more than 2.5 times in 2014, and IHS expects the Apple design win to attract further customers.
Texas Instrument held onto the No. 2 position in MEMS in 2014, with sales growing to roughly $805 million from $709 million in 2013. TI's success comes mainly from its DLP business projector segment using its Digital Micromirror Device (DMD), IHS said.
Itasca, Ill. based Knowles endured a 9 percent decline in MEMS revenue in 2014 after a technical defect forced Apple to replace Knowles' MEMS microphone in the iPhone 6 and 6+, according to IHS. Knowles remains the leading MEMS microphone vendor by far with a market share of roughly 45 percent, according to IHS. The firm expects Knowles to resume revenue growth in 2015 after it begins shipping to Apple again.
Another company that rode Apple design wins to impressive growth in 2014 was San Jose, Calif.-based InvenSense, which grew MEMS sales 34 percent to $332 million, making it the fastest growing company in the top 10. The vast majority of InvenSense's growth came from its 6-axis motion combo sensor design win in the iPhone 6 and 6+, according to IHS.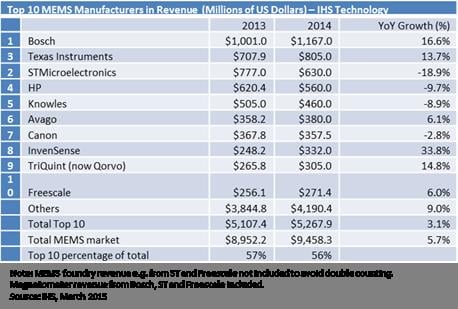 Fourth-ranked and seventh-ranked MEMS suppliers Hewlett-Packard and Canon continued to see revenue associated with MEMS inkjet printer heads decline in 2014, IHS said. Canon saw a slight decline of its inkjet printer sales. HP's inkjet printer sales increased 1 percent, but the shipment of inkjets has been on the decline since HP transitioned from disposable printheads (which are part of the ink cartridge) to permanent printheads in 2006, IHS said.
Avago and TriQuint, ranked sixth and ninth, respectively, both saw MEMS sales grow in 2014. Avago grew sales 9 percent, while TriQuint grew sales 15 percent, each based on the strength of their BAW filter businesses, IHS said. The firm said the LTE band is a boon for the two BAW filter makers, especially in the 2.3 GHz to 2.7 GHz bands, as BAW devices perform better than SAW filters at these frequencies. The BAW filter market is currently experiencing resurgence thanks to LTE and as the number of bands of in handsets keeps increasing, according to IHS.
Questions or comments on this story? Contact dylan.mcgrath@globalspec.com
Related links:
News articles: