Nujira Ltd. (Cambridge, England) is expected to close a $20 million venture capital round within the next few weeks to raise money to help it capitalize on the need of the LTE radio market for power efficient envelope tracking (ET) technology.
"We think that Q2 2014 will see the next round of reference platforms released to market, with 2015 seeing the first significant volumes shipped by non-Qualcomm ET partners," the company said in documentation distributed ahead of Mobile World Congress. Nujira also reckons that ET will be in 100 percent of smartphones by 2015. So who is going to win all those slots?
Nujira has been a pioneer of ET as applied to cellular radio for more than a decade. The technique saves power compared with conventional constant-supply voltage power amplifiers (PAs) by dynamically adapting the PA supply voltage to the signal amplitude, and thus reducing the power consumption of the PA that transmits the signal to the antenna. An alternative but less effective approach is so called average power tracking (APT) where the supply voltage is altered on a time slot by time slot basis.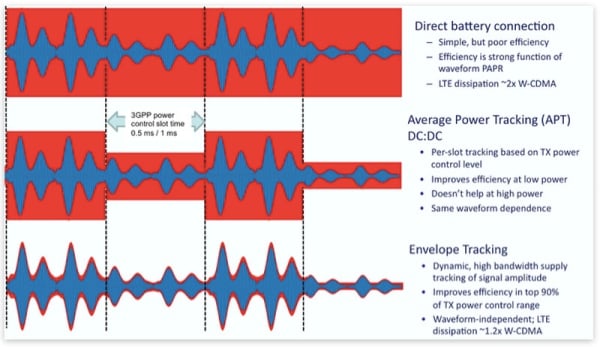 Comparison of constant voltage, average power tracking (APT) and envelope tracking (ET). Red areas represent energy wasted and dissipated as heat. Source: Nujira Ltd.
However, ET was largely ignored for 3G communications and now Qualcomm has leveraged its leading position in application, baseband and integrated mobile chip sets to introduce its own ET solution.
Nujira has worked with numerous radio chipset vendors get ET into their LTE chipsets, according to Jeremy Hendy, Nujira's vice president of sales and marketing. This could manifest as licensed technology or the adoption of Nujira ET chips within other companies' LTE chipsets. Unfortunately, one company Nujira hasn't worked with is one of the very few that has brought ET to market – Qualcomm – the 800-lb gorilla in chips for mobile handsets. And what is more Qualcomm was reckoned to have the vast majority of the LTE market with basebands integrated into application processors and its RF360 front-end solution introduced in February 2013.
Samsung's Galaxy Note 3 was the first phone with ET inside followed closely by the Google Nexus 5 from LG. Both phones featured the QFE1100 ET chip from Qualcomm, according to Nujira.
Nujira, founded in 2002, was the first company focused solely on bringing the technology to market. It originally aimed at cellular basestations before applying its technology to the 3G and 4G mobile handset market. Unfortunately most vendors declined to apply ET to 3G power amplifiers. However, 4G-LTE could be a gold mine for Nujira, if it can take most of the market that doesn't fall to Qualcomm.
"For the last three years we've been focused on handsets. Qualcomm decided to do their own chip. It's shipping, It kind of works, but ours is better," said Hendy. There are differences. Hendy describes them as two schools of ET implementation. One is the Nujira school. The other is the University of California at San Diego school. The most noticeable difference Hendy asserts is the ability of Nujira's ET to support high bandwidth communications and time domain duplex LTE (TD-LTE), as being deployed in China and other markets.
It's the bandwidth
Nujira has demonstrated in lab tests that it is able to support 40MHz channel bandwidths for 4G LTE-Advanced signals, using its NCT-L1300 ET modulator IC and a commercially available handset RF power amplifier. The company has also delivered superior energy efficiency in 20MHz TD-LTE mode.
"Other ET architectures don't scale to higher bandwidths. Nujira's solution offers twice the power saving of narrow bandwidth solutions," the company has said in documentation. This is particularly relevant for TD-LTE and LTE-Advanced. Because TD-LTE alternates between sending and receiving, typically on 4-to-1 downlink to uplink ratio, TD-LTE can require five times the bandwidth and 7dB more output power than FD-LTE, making the requirement to minimize power even more important Hendy said.
For LTE-Advanced 20MHz bandwidth channels is the entry requirement and there may be demands for ET to cover 40, 60 and maybe even 80MHz channels or aggregations.
However, Nujira is not the only alternative to Qualcomm. There are other startups trying to move into the market. There's Quantance Inc. (San Mateo, Calif.) and Eta Devices Inc., a spin-off from the Massachusetts Institute of Technology (MIT). At Mobile World Congress 2014 Eta launched its Eta5 chip which is aimed at LTE-Advanced deployment. RF Micro Devices offers an ET solution but only with their power amplifiers, said Hendy. In general he believes that handset builders want an ET solution that is PA agnostic. And thus it is established modem and RF chip vendors who are likely to gain the design wins including companies such as Intel, Broadcom, Samsung and Fujitsu, Hendy said. These in turn have represented an opportunity for Nujira and its rivals.
Why not in 3G?
Explaining why ET was not deployed in 3G handsets Hendy said: "With 3G the peak-to-average power ratio is lower. With LTE the bits-per-hertz is much greater driving up the peak-to-average power ratio. In addition 3G could use a single-band optimized PA whereas LTE in multimode, multiband form means that multiple PAs must be deployed and many are not optimized. The PA is becoming a software problem."
Another way to consider it is that a user switching a handset from 3G to 4G is likely to see the battery drain twice as fast due to inherent inefficiencies in the PA, unless the 4G RF is equipped with envelope tracking. That is likely to be enough to persuade most smartphone handset developers to adopt ET. However, there are additional benefits, Hendy said: "Using ET is like introducing a software-defined PA. You can trade off such things as TD [time-domain duplex] and FD [frequency-domain duplex] operation, power, efficiency and so on. But it has to be integrated with the RF transceiver chipset," Hendy said.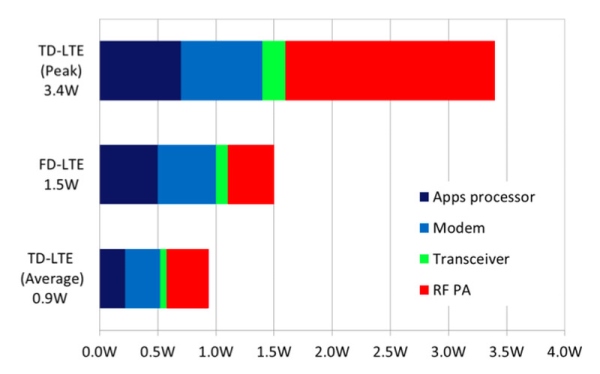 Figure 2: Comparison of TD-LTE peak and average power consumption with equivalent FD-LTE terminal; all without ET applied. Source: Nujira Ltd.
Nujira has demonstrated in lab tests that it is able to support 40MHz channel bandwidths for 4G LTE-Advanced signals, using its NCT-L1300 ET modulator IC and a commercially available handset RF power amplifier. The company has also delivered superior energy efficiency in 20MHz TD-LTE mode.
What to spend it on?
An indicator of what Nujira needs funding for can be found in its plans to open a design center in San Jose, Calif., this month. The center is Nujira's first expansion outside the UK but clearly comes as ET technology gains traction in 4G smartphones. Nujira is working with foundry supplier Tower Semiconductor Ltd. (Migdal Haemek, Israel) to gear up production of the NCT-L1300 ET modulator chip for LTE handsets using 0.18-micron RF CMOS.
"We have helped standardize ET via the Open-ET initiative and through the MIPI Alliance," said Hendy. As a result ET interfaces have become standardised on LTE basebands, which paves the way to a very high adoption rate of this technology.
Nujira has consistently claimed it has the leading patent position in ET. In February 2013 the company claimed to have more than 200 patents granted and pending and to be in good shape to start benefitting from design wins in mobile phones in 2014. "We have more than 74 patent families. We don't think it is possible to bring an ET product to market without infringing some of Nujira's patents," said Hendy.
Does that include Qualcomm? "Qualcomm has more lawyers than we have engineers," said Hendy.
Related links and articles:
MWC: Riding the High-Speed Train Called the Internet of Things
Marvell Includes LTE in 64-bit Apps Processor