You can't walk 50 feet in any direction around this year's Mobile World Congress (MWC) and not hear something about all sensor-based data collection activity making its way into the world.
With wearables, machine-to-machine connectivity, mHealth, and connected homes, buildings and cities catching a fever pace, sensors have won "sexiness appeal" this year. Adding to that trend, the Android 4.4 KitKat introduction last November has expanded the conversation about platform support for hardware sensor batching and optimizing power consumption while keeping the mobile device CPU in low-power mode.
With that fuel on the fire, companies throughout the electronics supply chain were out in force this week showing off their wares in the eight megahalls packed with an expected 70,000 to 80,000 global attendees.
Among them were STMicroelectronics. With several demos on the floor, the company's main message was about embedding more sensors into mobile devices and applications as a way of taking the load off the application processor.
"We're seeing a growing need to reconstruct the way always-on features work on mobile devices," said Luca Fontanella, business manager for STMicroelectronics' Analog, MEMS and Sensors Product Group within the Motion MEMS Division. "You can't run all of these features on the application processor because they consume too much power. A microcontroller integrated with sensors will support the always-on and motion technology functions an allow the application processor to go into sleep mode."
Across the hall, InvenSense, a provider of motion tracking sensor system on chip and sound solutions for consumer electronic devices, showed off its 2-axis gyroscopes designed for optical image stabilization (OIS). OIS removes hand jitter and improves picture and video image quality in smartphone cameras, said Ali Foughi, InvenSense's vice president of marketing and business development. A sensor-based OIS solution will bring the digital SLR, still camera experience to mobile devices, particularly in phones and tablets, and possibly in wearables over the longer term, he added.
"OIS for mobile phones is ramping, and we see it as a significant growth area," Foughi said, adding that four smartphone handsets with InvenSense's OIS capability are in production (Nexus 5, HTC One, Zubia Z5S and LG G2).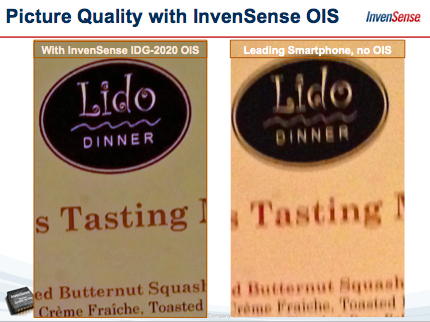 Besides offering better picture quality, OIS may jumpstart consumer interest in the mature medium to high-end smart phone categories, segments that have seen recent sales slowing down as lower-end phones come to market with improved functionality, noted Marwan Boustany, senior analyst for MEMS and sensors in mobile and consumer technology, at IHS. Although Apple has also shown OIS interest from a patent and development perspective, it will take some time before it is more widely adopted among handset makers, he added.
"Until manufacturing processes mature to handle large volumes, we won't see this take off in a big way yet. It's hard to say when that will happen, but I assume we'll see more products out in the next year or so," Boustany said.
Another company at MWC was Movea. The company, which provides data fusion and motion processing firmware, software and IP for the consumer electronics industry, demonstrated its sensor hub architecture and talked about sweet spots it's developing into its roadmap. Increased functionality in the context awareness segment of the sensor market is particularly ripe for growth this year, replacing to some extent last year's industrywide focus on activity monitoring for the health and fitness areas, said Bob Whyte, Movea's product marketing director.
"You'll see over the next 12 months everybody taking about context awareness. We can smell it all over the place," said Whyte. "Where 2013 was all about the sport stuff, 2014 will be all about context awareness."

Boustany agrees. Context awareness and indoor navigation will be key interest areas for sensor companies anxious to launch new go-to-market features and offset maturity in the motion tracking space. Also, fingerprinting sensors will cause a buzz as well, especially now that Apple has integrated these parts on its iPhone 5s and Samsung announced at MWC that its flagship Galaxy S5 smartphone will come with a fingerprint sensor and heart rate sensor.
Despite the MWC fanfare and expected unit volume increase into new devices and applications, the MEMS and sensor market, from a revenue perspective, will tread into more tepid waters, Boustany said. While IHS expects total sensor unit shipments to have a compounded annual growth rate of 15.7 percent between 2013 and 2017, revenue will stay essentially flat during the same period of time at 0.8 percent.
"While sensor shipments will continue to grow at a CAGR of 15.7%, this unit growth will be under dearly felt attack from ASP [average selling price] erosion." Boustany said.
Related links: