What does the future of in-vehicle electronics look like?
One might well ask the same of the Consumer Electronics Show itself, which with a record nine automakers exhibiting this week in Las Vegas demonstrates the growing convergence of these two industries.
Fittingly, Audi Chairman Rupert Stadler delivered one of the show's keynote addresses, unveiling the German automaker's initiatives to incorporate electronics ever more expansively to improve the driving experience.
Stadler used the occasion to introduce Audi's newest self-piloted A7 prototype, which drove itself, sans driver, onstage.
"In 2013, we made a big step forward in piloted parking and driving," said Ulrich Hackenberg, a board member at Audi Technical Development. "At CES one year ago, the trunk of the demo car was filled with cables and electronic devices [used to guide the vehicle]. Technology needs to be scalable to make it part of people's everyday lives."
Audi's newest concept vehicle features an electronic "brain" smaller than an iPad that is fully integrated into the car's architecture and is capable of taking in 2.5 billion inputs per second to help the vehicle recognize its surroundings, make decisions, plan the vehicle's course and, upon reaching its destination, park.
"The prototype period is almost over. Now it's time to get ready for series production," Hackenberg added.
"We're looking at deployment of fully self-driving cars by 2020," said Mark Boyadjis, senior analyst and manager of infotainment and HMI at IHS Automotive. Boyadjis cited the lack of a legal framework as the chief obstacle to earlier deployment, particularly with respect to the issue of which party—automaker, technology company or driver—is liable in the instance of an accident involving such a car.
'Virtual Cockpit'

Of more immediate consequence, however, is Audi's introduction of what Stadler referred to as a "virtual cockpit" for the 2015 TT roadster. Powered by Nvidia's Tegra 3 processor and featuring Rightware's Kanzi User Interface solution, the display replaces the typical gauge cluster with a 12.3-inch TFT LCD customized for each driver.
"It automatically presents the most relevant information, depending on whether you are parking or stuck in a traffic jam," Stadler said. "Information is easy to locate, speech functions are optimized."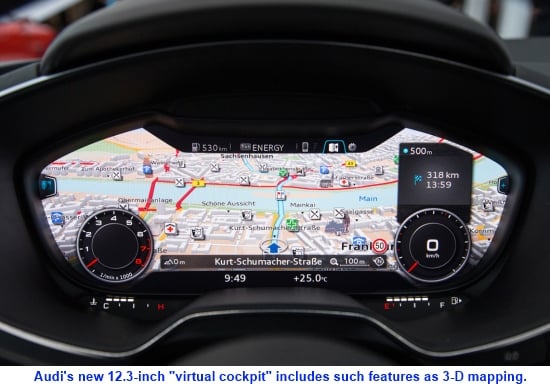 Audi has also moved the display from the center stack to a location behind the steering wheel.
"From a user experience standpoint and especially in a sportscar, that information can be a little out of the convenient range for line of sight," Boyadjis said. "Having that visual closer to the driver and closer to the line of sight will be safer in my opinion."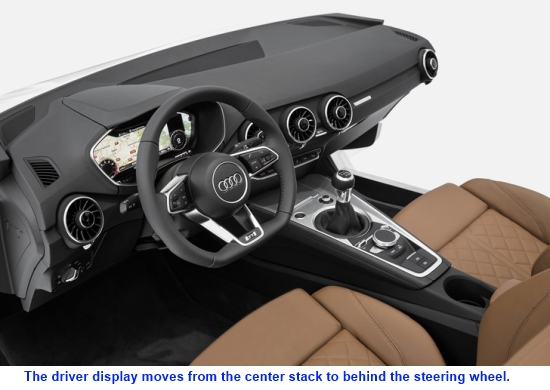 4G LTE for 2015 Audi A3
Also on tap for the 2015 model year, Stadler indicated, Audi will partner with AT&T and Qualcomm to roll out in-vehicle LTE wireless connectivity to its A3 range.
"Over the course of the next 12 months, I expect to hear from several other automakers and their LTE deployment plans," said Boyadjis, citing Hyundai and Mercedes specifically. "I think that LTE and this high-bandwidth connection will enable more functions and features and will enable truly real-time data exchange that a 2G, even a 3G connection, can't accomplish."
In-vehicle high-speed wireless will be about more than providing superior entertainment packages, Boyadjis added. "It's going to be about how we revolutionize the user experience in the car. And, underlying some of the services and applications that different carmakers are going to be putting in, there will be a robust connective environment."
The 'Innovation Cycle' Conundrum
A challenge that all automakers face going forward, Stadler said, will be accommodating the roughly seven-year cycle required to produce a new vehicle model with the electronics industry's far-shorter innovation period. "If you drive a 2012 model, remember that the engineers started to think about your car back in 2005," he said. "Seven years is not a lifetime for vehicles, but it's several lifetimes for electronics."
Boyadjis agreed, adding that the challenge for automakers and technology companies is to create hardware systems that are as "future-proofed" as possible. That means putting much of the electronics planning into the latter stages of vehicle development and creating modular hardware architecture that can easily accommodate software upgrades as required.
Boyadjis cited Tesla's Model S as an example. Initially, the model S was sold without a "creep" function, whereby the car eases forward when the foot is off the brake. A number of Tesla owners objected, because they had grown used to that feature from their experience with standard transmissions.
"They sent out a software update to all their vehicles, and now you can turn on and off the creep function if you want. That's how you create a vehicle that has a 10-year lifespan but will not be antiquated in two years," Boyadjis said.
Related stories: