With the passing of the $52 billion Chips and Science Act, semiconductor manufacturing in the U.S. is bound to accelerate over the next five to 10 years.
Prior to the Chips Act, renewed calls to boost domestic chip manufacturing were already underway in the U.S. by trade organizations, chipmakers and the government after a lingering semiconductor shortage developed due to the COVID-19 pandemic. The idea is if the global supply chain for chips is expanded beyond Asia, when another pandemic happens or a new geopolitical issue emerges, the supply chain will be more resilient and not plunge the electronics market into chaos.
It isn't just the U.S. thinking this way either. The European Union has its own goals to reach 20% of all global semiconductor manufacturing by 2030 and Japan is also creating new incentives to grow its domestic chip manufacturing. Obviously, the companies producing the most chips now in Korea, Taiwan and China aren't going to stand idly by and are also increasing capacity.
The Semiconductor Industry Association (SIA) forecasts that over the next decade semiconductors will grow by 5%, increasing demand across all sectors. And chips are now being used more than ever before in automotive, internet of things, consumer electronics and industrial sectors adding even further to the coming demand.
Semiconductor manufacturers are answering by investing multiple billions of dollars across numerous regions to build new chip factories. This article will examine new semiconductor manufacturing fabs coming online in the next five years.
TSMC
Taiwan Semiconductor Manufacturing Co. (TSMC) is the largest pure play foundry in the world. Because of its prowess in making semiconductors, TSMC has also fast tracked its way into becoming one of the largest chipmakers in the world. So, it is not surprising that as chip demand is increasing TSMC is expanding its foundry capacity to accommodate.
Construction has already started on TSMC's state-of-the-art fab in Arizona. The facility will be one of the most advanced facilities in the U.S. TSMC said the fab will be one of only two of its kind in the world capable of producing 5 nm technology for semiconductor wafer fabrication. When completed in 2024, the factory will be able to produce 20,000 semiconductor wafers per month and will create more than 1,600 jobs directly and thousands more indirectly in the region.
There are reports that TSMC may invest further in the Arizona facility in building a "gigafab" and upping its investment from $12 billion currently to more than $35 billion over the next decade.
Meanwhile, TSMC has started construction on its fab in Japan called Japan Advanced Semiconductor Manufacturing Inc (JASM). The factory will be built in Kumamoto Prefecture in the town of Kikuyo and TSMC is teaming up with Japanese companies Denso Corp. and Sony Semiconductor Solutions (SSS) who are looking to secure future capacity of semiconductors.
The fab will have an investment of $8.6 billion including subsidies from the Japanese government and equity stakes from SSS and Denso. Production is scheduled for late 2024 and will initially use 22/28 nm process technology. When fully operational, JASM will produce 45,000 12 inch wafers a month.
Over the next five years, TSMC is also expanding more fabs in Taiwan with a new 6 nm and 7 nm fab in Koahsiung, Taiwan, as well as a 2 nm facility in Hsinchu, Taiwan.
Intel
After the turmoil of the chip shortage in 2020, Intel Corp. made a strategic decision to get back into the foundry business with its Intel Foundry Services (IFS). One of the moves it made to boost its foundry business immediately was to acquire Tower Semiconductor, the ninth ranked foundry in the world.
But that was just part of Intel's strategy as it broke ground on two new fabs last year in Chandler, Arizona, at its Ocotillo campus. Investing $20 billion, the Arizona fabs are expected to be in full production by 2024.
Intel has also committed another $20 billion investment in two new fabs in Licking County, Ohio that after the Chips and Science Act passing will begin construction later this year. Production is expected to come online in 2025 and will create 3,000 high-tech jobs and 7,000 construction jobs over the course of the build.
Intel may expand the Ohio facility into a potential mega-site that could reach as much as $100 billion over the next decade, according to reports. This would make it one of the largest semiconductor manufacturing sites in the world.
In Europe, Intel made plans to build new factories in the east German city of Magdeburg. The Magdeburg fabs will be state-of-the-art facilities and will begin construction in 2023 with a 2027 production timetable.
One of the tipping points for the German fab may have been the announcement of the European Chips Act, which would provide somewhere close to $50 billion to entice manufacturers to build new semiconductor factories in the region and by giving these companies subsidies.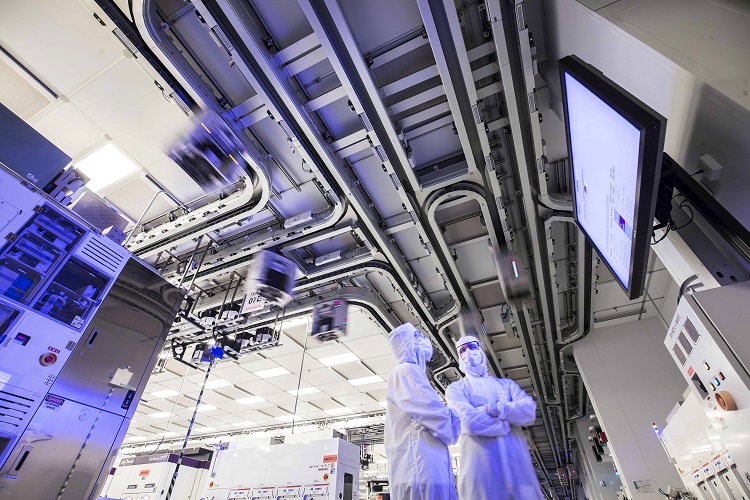 Workers at GlobalFoundries' Fab 8 in Malta, New York, produce semiconductor wafers. GF is building a number of new fabs to expand capacity to meet chip demand that is coming over the next decade. Source: GlobalFoundries
Samsung
Samsung is the second overall foundry in the world just behind TSMC, but it also builds chips for its own internal appliances, devices and consumer electronics. In total, Samsung is the largest chipmaker by capacity and revenue in the world.
Samsung is building a state-of-the-art fab in Tyler, Texas, a city about 30 miles outside of its existing manufacturing hub in Austin. The company is investing $17 billion in the fab and will support about 3,000 employees. Construction is likely to begin soon with a production aim in the 2025 timeline.
The Tyler fab is part of Samsung's goal to increase foundry production capacity by three times by 2026. This may include future investments by Samsung in the Texas region as well.
Recently, documents filed by a law firm for Samsung with the Texas Comptroller of Public Accounts said the company is considering building 11 semiconductor manufacturing fabs in Austin, Texas at an estimated cost of $200 billion. However, these fabs would be longer than five years out and likely could be a tease to allow foreign companies for inclusion of the CHIPS Act, something both Samsung and TSMC have lobbied for.
Samsung is investing in Korea as well with $25.2 billion being spent on its third line at its Pyeongtaek, Korea fab, or P3. This is part of Samsung's long-term goal to build six chip fabrication facilities at the Pyeongtaek complex. P3 is expected to begin production in the second half of 2023. The facility will produce 14 nm DRAM and 5 nm logic semiconductors based on extreme ultraviolet (EUV) lithography technology.
UMC
United Microelectronics Corp. (UMC) is another pure play foundry based in Taiwan and the overall third ranked foundry in the world, according to data from TrendForce.
UMC has announced fab expansion plans for both Taiwan and Singapore. The company will expand capacity at its 300 mm Fab 12A Phase 6 in Taiwan's Tainan Science Park. The expansion will be in production by the second quarter of 2023 with total investment in the facility over the next three years — including new equipment for the site — to be $5 billion.
Earlier this year, UMC announced that it would build a new manufacturing plant in Singapore capable of producing 30,000 wafers per month by 2024. The 300 mm facility, dubbed Fab 12i, will be one of the most advanced semiconductor foundries in Singapore with process technologies in the 22/28 nm node.
UMC said it will be investing about $5 billion in the project and it will bring new jobs to the country where it has operated for 20 years and already has a designated R&D center for advanced specialty technologies.
The fab is backed by customers who have signed multi-year supply agreements to secure capacity from 2024 and beyond for technologies such as 5G, internet of things and new automotive technologies such as automated driving and electrification.
SMIC
Semiconductor Manufacturing International Corp. (SMIC) is the fifth largest foundry in the world and the largest foundry in China. Despite being blacklisted by the U.S. Department of Commerce, which allows anyone wanting to sell semiconductor equipment to the company to obtain a special license, continues to grow and has plans to triple its 300 mm production in the next five years.
SMIC has started production of two 300 mm fabs and plans to install additional tools into existing 300 mm fabs that will process wafers using 28 nm and thicker process technologies. Currently, the company can manufacture about 120,000 300 mm wafers per month.
One of these facilities will be built in Shenzhen, where the local government will invest about $2.35 billion in the project. The aim is to produce 40,000 12 inch wafers a month in the Shenzhen fab using advanced processing nodes of 28 nm or higher.
When both fabs are complete in 2025, SMIC will be able to manufacture about 360,000 300 mm wafers per month.
GlobalFoundries
GlobalFoundries (GF) is the fourth overall foundry, according to TrendForce, and much like the other semiconductor manufacturers, is expanding overall capacity by building more factories.
Last year the company broke ground on a new fab in Singapore investing about $4 billion to meet global semiconductor demand. When completed, the facility will be capable of producing 450,000 300 mm wafers per year.
It is also building a new facility adjacent to its existing Fab 8 in Malta, New York. That fab will create more than 1,000 new direct high-tech jobs. GF said the new capacity will meet growing demand for chips needed by growth markets such as automotive, 5G and the internet of things (IoT).
GF is also building a new fab with ST Microelectronics in Crolles, France. This new factory will be a 300 mm fab with a full production capability targeted by 2026. Once fully operational, it will be capable of producing 620,000 300 mm wafers per year. Of this, about 58% of the wafers will be used by GF and about 42% of the wafers will be used by ST.
The companies said they will receive support from France for the new facility as it will contribute to the objectives in the European Chips Act.