You can't go to any technology site these days and not read about smart home devices. From smart video intercoms to smart clocks to smart light bulbs, there is pretty much a smart device out there for anything you could think of.
Possibly the most popular use for smart devices is to keep homes secure. But choosing an actual device can be overwhelming. This list of five smart security devices can help you make a decision on which one is best for your home and your family.
1) Nest Secure Smart Alarm System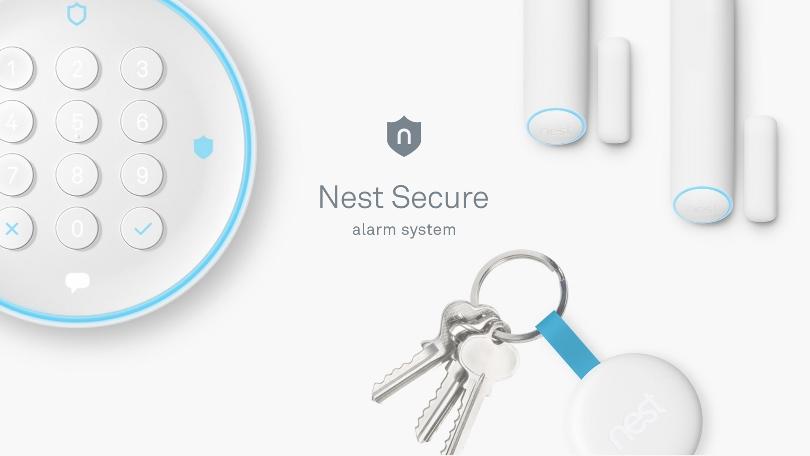 Source: Nest
Nest Secure has many smart devices and products on their site, including their smart alarm system. The system includes one Nest Guard, one Nest Detect, one Nest Tag and the downloadable app. The Nest Guard is the main part of the whole system. The Guard is the alarm, keypad, motion sensor and home base that the rest of the system reports back to. The Detect focuses on doors and windows, sensing any movement near it and whether doors or window open and close. The Tag allows the homeowner to easily turn the whole system on and off. The Nest Secure app keeps you up to date with your system. If the security system goes off, the app alerts the homeowner, tells them what triggered the alarm and even calls the police.
If you are interested in the Nest Secure Smart Alarm System you have a few options to purchase. You can purchase the system on its own for $399. If you want to take your security one step further, Nest offers two security bundles that include more Nest products. The eight-piece bundle, available for $676, includes the whole Nest system, one indoor Nest Security Camera, one Outdoor Nest Security Camera and one Nest Security yard sign. The other option is the 12 piece security bundle for $1,152. This bundle includes the Nest Security System, one indoor Nest Camera, one outdoor Nest Camera, one Nest x Yale lock, one Nest Hello, two Nest Detects and one Nest Security Yard sign.
2) SimpliSafe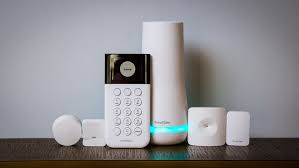 Source: SimpliSafe
The SimpliSafe system looks like many smart home assistants, like Amazon's Alexa, but it's actually a security system. SimpliSafe is a DIY customizable system. Once the base system is set up, you place the SimpliSafe sensors around your house and the system is ready to go. This system protects not only from intruders but from fire and other environmental hazards.
Similar to Nest, SimpliSafe has a few bundles to choose from. The Haven package is $489 and includes the base station, keypad, one key fob, four entry sensors, two motion sensors, one panic button, one freeze sensor, one water sensor, one 105b siren and one smoke sensor. The Knox package is $449 and includes the base station, keypad, one key fob, six entry sensors, one smoke sensor, two motion sensors and one 105b siren. The Stonefort package includes a base station, keypad, one key fob, nine entry sensors, two motion sensors, one panic button and one 105b siren. Those are just a few of the packages that SimpliSafe offers. SimpliSafe covers every type of home you could think of. They even offer a customizable option, which allows homeowners to create their own package personalized to their individual homes.
3) Wink Lookout Security System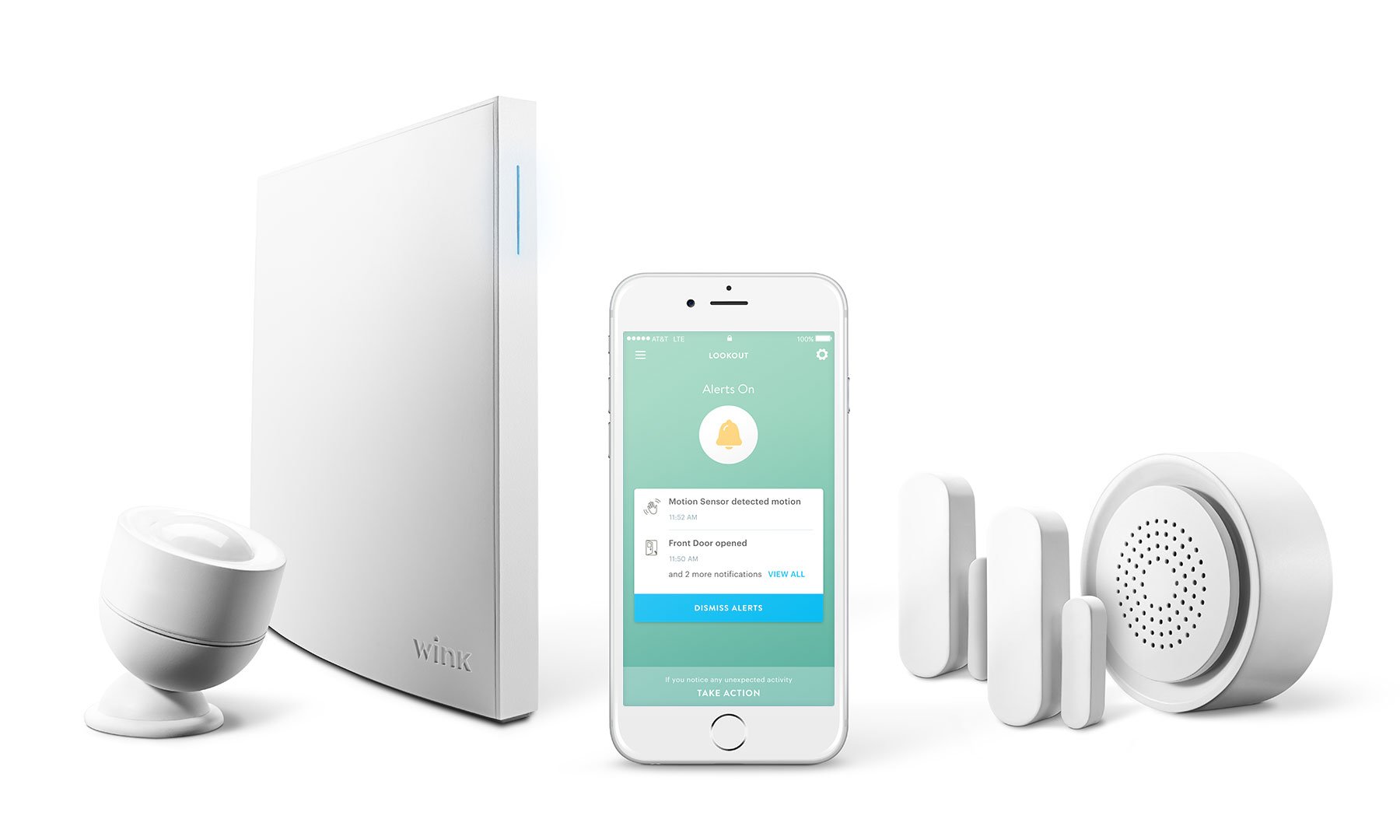 Source: Wink
If customizing a system to your needs is overwhelming, the Wink Lookout is perfect for you. With the Wink Lookout, you have everything you need for $199. The Lookout system has the WinkHub, two door/window sensors, a motion sensor, a siren/chime, a power adapter and an Ethernet cable. This is a complete security system for a smaller home or apartment.
The system connects to a smartphone app. The app keeps the homeowner in the loop with what is going on in their home when they are away. If the system senses something out of the ordinary, the app will notify the homeowner immediately and they can take action if they need to. The Wink Lookout is great for someone just getting started in smart home security.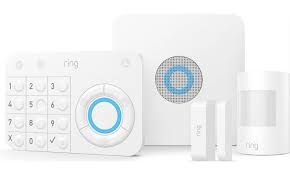 Source: Ring
This is another great option for someone who doesn't want to worry about customizing their system to their home. The Ring Alarm Security Kit has everything you to easily install a smart home security system for $199. The security kit includes the Ring Base Station, which connects to all the systems around your home, your smartphone and the Ring app via Wi-Fi or Ethernet. The base also has an alarm. It includes a keypad that arms and disarms the system, a contact sensor for doors and windows, an indoor motion detector, and a range extender to extend the base station's reach.
You can add any Ring security camera or doorbell to your system if you want. If you do want a little more security, Ring offers a Ring Protect Plus Plan. This plan includes 24/7 professional monitoring, cellular back up, video recording, extended warranties and more, for $10 a month.
5) Adobe Smart Security System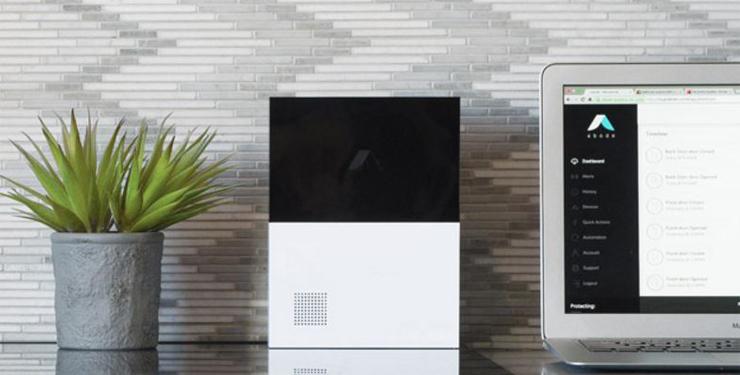 Source: Adobe
The Adobe system Starter Kit is another great, quick and easy smart home security system for beginners. This system comes with a Gateway hub, two door and window sensors, a keychain fob and a motion sensor detector/camera combo for $299. The batteries in the gateway hub are rechargeable and provide 12 hours of charge if the power goes out in your home.
Adobe offers bundles to provide more protection if you need it. The basic bundle costs $229 and includes one Gateway hub, one motion sensor, one mini door contact, one remote keyfob, basic plan access and one Adobe security sticker for your window. The connect bundle costs $279 and includes everything in the basic plan and 12 months of cellular back up from AT&T or T-Mobile. The secure bundle includes everything in the connect bundle plus 12 months of professional monitoring.
There are so many options out there for smart home security and the above five are only a few. While it may seem overwhelming, it's great to have options to keep you, your family and your home safe. Hopefully, this article has helped you narrow down the search a little bit! Are you considering any of these security kits? Did I leave out a security system that you have and love? Let me know in the comments!