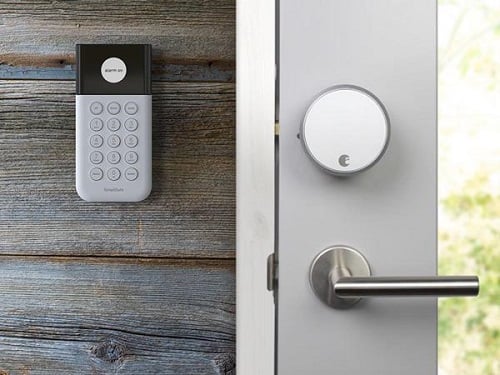 August Home's smart locks are now compatible with SimpliSafe's security system. Source: SimpliSafeTwo smart home vendors are coming together in a new partnership to provide a better way to secure consumers' homes.
SimpliSafe, a maker of home security systems, will integrate August Home smart locks in its security systems, allowing consumers to automatically lock and unlock the smart devices using the SimpliSafe security system. The companies say this will allow consumers to have both a locked door and a monitored security system when they leave during the day and go to bed at night all controlled via one system.
Homeowners can disarm the system through the SimpliSafe key fob, keypad or mobile app and the August Smart Lock will automatically unlock to provide smooth access to the home. When consumers arm the security system, the smart lock will lock automatically as well.
The companies say the system and locks can be controlled anywhere so when a guest needs to access the system — whether it be a dog walker or babysitter — homeowners can unlock the door and disarm the system through the mobile app and then re-arm it when that person leaves.