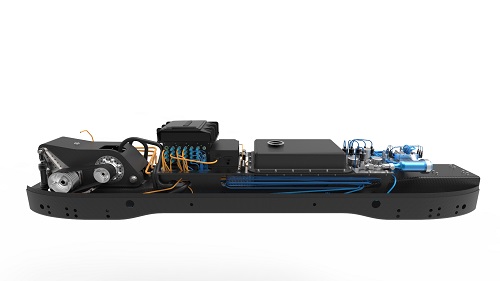 This is the second hyperloop capsule being developed by the students of TU Munich. Source: TU Munich The hyperloop team from Technical University of Munich (TU Munich) has revealed their second pod that will be used to participate in the SpaceX Hyperloop Competition II in Los Angeles this month.
After winning the first competition in January, TU Munich is seeking to repeat its performance and is using software distributor Cadenas to access engineering data and purchase parts from more than 700 component manufacturers.
The team used the resource to find data from manufacturer MayTec to design the test rack for TU Munich's linear induction motor. Then, the team used the database to find a suitable plug connection and test it before importing it into the design of the second pod.
The Scientific Workgroup for Rocketry and Spaceflight (WARR) students involved in TU Munich's second hyperloop pod developed the prototype based on carbon fiber-reinforced plastic (CRRP) with support of carbon fiber materials provided by SGL Carbon SE.
The second Hyperloop Competition II is schedule for Aug. 25-27 at SpaceX's hyperloop track in Hawthorne, Calif.