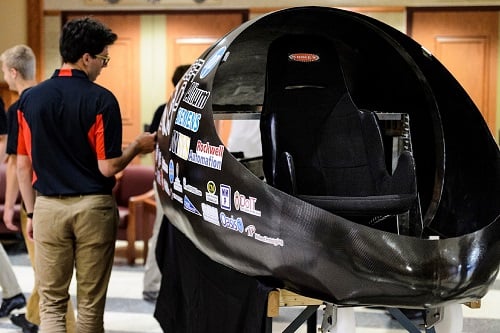 The BadgerLoop Pod II that will compete in this weekend's SpaceX hyperloop competition. Source: University of Wisconsin This weekend, about 25 teams of students from different universities from around the world will travel to Hawthorne, Calif. to test their hyperloop pods on SpaceX's 1-mile hyperloop test track during the second Hyperloop Competition Weekend.
Among those teams is the one from University of Wisconsin, Madison, which recently unveiled its second pod. Known as BadgerLoop, the team has participated in multiple phases of the competition and is one of the finalists in the coming competition.
During the first race that took place in January, the team earned two innovation awards for creativity and the inventive design of their pod. SpaceX says this second competition is all about one parameter — speed. With this in mind, UW Madison built an entirely new pod that is much lighter compared to the pod that was tested in January.
UW Madison will be joined by universities such as Princeton, Purdue, Virginia Tech and CSU Sacramento among many others. Recently, the Technical University of Munich (TU Munich), which won the first competition, debuted its second pod for this weekend's competition.
To learn more about this weekend's competition, visit SpaceX.com/Hyperloop.