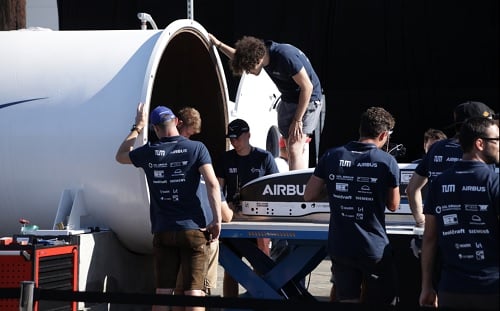 Students from TU Munich load their pod into SpaceX's test track. Source: TU MunichOver the weekend, SpaceX held its second hyperloop competition inviting about 25 student teams from around the world to test custom-built pods on the company's mile-long test track.
The second competition was focused on a single metric—speed. How fast a team could get a pod to travel along the track. The winner of the competition was the WARR team from the Technical University of Munich (TU Munich) whose pod ran at a speed of 324 km/h, about 200 mph.
As a result of the WARR team's achievement, co-founder and CEO of SpaceX, Elon Musk, says with work it could be possible to get a pod up above 500 km/h even on the short test track at SpaceX's headquarters in Hawthorne, Calif.
Musk also announced that SpaceX will host a third competition for hyperloop pods next year.
On Saturday, the 25 teams showed what their pods could do and from that three teams were invited to compete on Sunday under the right conditions. TU Munich's team won the first SpaceX hyperloop competition in January and was the fastest pod at that time as well. But in January, the pod's speed was only 58 mph.
This 200 mph achievement shows just how far the technology has come in just a short amount of time.
The WARR pod is made entirely of carbon fiber making it lightweight at about 176 pounds and powered by an electric motor.
The second fastest pod was from Boston-based Paradigm Hyperloop, an international group of student engineers. Their pod reached a top speed of 62 mph. The only other team to compete on Sunday was Swissloop from Zurich, whose pod reached nearly 40 mph.