This past weekend's SpaceX Hyperloop Competition was the third such event in which universities from around the world tested their latest technology pods, which could one day become what is being billed as a fifth mode of transportation.
The winner of that event was WARR Hyperloop, the student team from the Technical University of Munich, which was able to achieve record speeds of 290 mph along SpaceX's mile-long test track at its headquarters in Hawthorne, California.
Delft Hyperhoop, the student team from TU Delft, had hopes of competing for the speed record during the event, aiming for 480 kilometers per hour (298 miles per hour, but instead was only able to hit 88 miles per hour during the competition. However, that was still good enough to place second at the SpaceX event.
Two days prior to the competition, Delft Hyperloop had problems with its motor controller and a short-circuit in its pod's motherboard, which impacted how fast the pod was able to travel. The team was able to find a new motherboard but went into the competition without time to test the board inside the pod.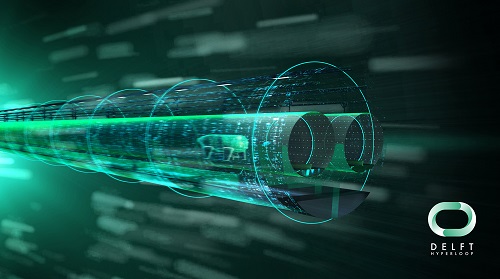 An artist rendering of an underground hyperloop transportation system. Source: Delft HyperloopThe pod with the new motherboard passed the first test outside on a subtrack, and SpaceX allowed the team to test the pod inside the vacuum chamber. It passed this second test and was able to run the final test, with the goal being achieving the maximum speed possible. Unfortunately, the motor overheated when the pod reached 142 kilometers per hour (88 miles per hour).
"We knew overheating was a possibility, but had only tested our motor in the much cooler climates of The Netherlands, so it had never been a problem before," Edouard Schneiders, team leader of Delft Hyperloop, told Electronics360. "Inside the tube, it was actually much warmer than the outside temperature in Los Angeles."
Viable Transportation
The global market for hyperloop technologies is expect to explode in the next few years, reaching $1.78 billion by 2023, up from just $132 million in 2016, according to market research firm Research and Markets. This growth will be driven by rapid industrialization, growing populations, reduced travel time, less expensive equipment, less area requirement and easier-to-build infrastructure, the firm said.
According to Delft Hyperloop, hyperloop potential resides in the fact that it is using existing technologies found in trains, planes and maglev technologies that are proven and tested, but applying them to a new method of travel. The only challenge is a hundreds miles-long vacuum chamber and figuring out what is reliable, safe and affordable.
"Given hyperloop's obvious benefits of being fast, energy efficient and as convenient as a metro, I think that hyperloop will pick up very quickly once it has been proven that it is commercially viable, or profitable," Schneiders said. "According to our own calculations, a profitable hyperloop tube in Europe, where much of the tube is underground, would result in a ticket price about the same as that of a plane for the same trip. And plane tickets are subsidized! So hyperloop is in fact is a very simple idea, and therefore extremely viable, especially once we have proven that it can be profitable."
At first it is likely hyperloops will be used for transporting cargo for a few years to ensure the system is 100 percent safe and then will move along to transporting passengers, Schneiders said.
"Even then it is most efficient to send the maximum amount of pods through the tubes, and therefore on off-peak hours transporting cargo in cargo pods," he said. "On top of this, hyperloop is extremely energy efficient and can run on clean energy, meaning that transporting goods through a hyperloop would be much better for the environment than with trucks or planes."
The hyperloop could also be used for transporting goods or people in an emergency or transporting organs to hospitals at high speeds. An automated hyperloop network could be connected to an automated road network in order to provide a large, smart transportation network that would be efficient and improve the quality of commutes and logistics, also improving quality of life.
For Delft Hyperloop, the group plans to compete in next year's SpaceX hyperloop competition, building on the knowledge from its latest speed-focused concept.