Elon Musk's SpaceX held a Hyperloop competition over the weekend where 27 teams were brought in to design and build the best Hyperloop pod in order to help accelerate the development of a commercial prototype.
Of these teams, only three pods were able to run on SpaceX's Hyperloop mile-long test track after passing a series of eligibility tests, such as structural and vacuum chamber tests. These teams included MIT, Delft University and the Technical University of Munich, Germany.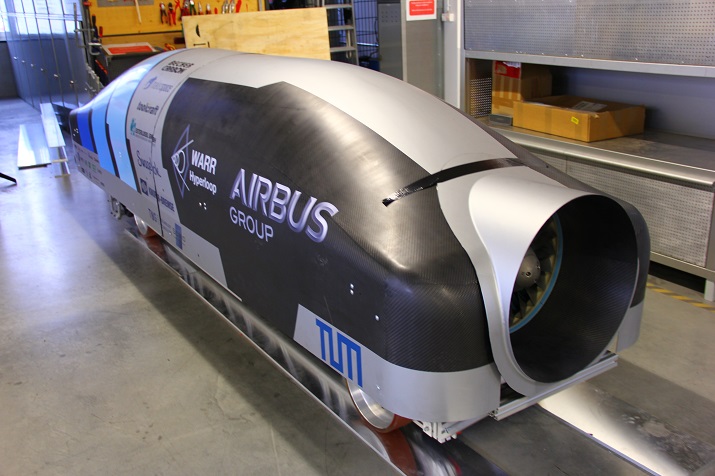 The Technical University of Munich's pod that was raced during SpaceX's Hyperloop competition and won second place. Source: Technical University of MunichDelft's pod achieved the highest overall score during the weekend competition winning first place. The fastest pod award went to Technical University of Munich achieving a high speed of 58 miles per hour in the tube. MIT took third place in the challenge. Each of the winners were presented with a 3-D printed award signed by Musk.
Hyperloop is a proposed mode of transportation for both consumers and freight that involves propelling a pod-like vehicle through a near-vacuum tube at airline speeds. The concept could change how people move about from city to city and country to country. While the concept of the Hyperloop has been around for decades (and a keen subject in science fiction) just recently the technology has reached a point where real-world tests are being conducted on the feasibility of the technology.
Some believe the technology could enable a traveler to go from San Francisco to Los Angeles in the span of just 30 minutes going at speeds of up to 745 miles per hour. Recently, companies developing Hyperloop systems have made agreements to begin building railways for the pods in the Middle East and Europe.
The next phase in SpaceX's Hyperloop competition will take place this summer when the teams will be able to submit their pods for testing and those that were not able to launch on SpaceX's test track will have the opportunity to fix their pod for testing. The next test will focus on one criteria: maximum speed.