Paby announced a 3G wireless smart pet tracker which tracks a pet's location and activity. The trackers have an advanced 3G GPS, LBS (location-based services) and Wi-Fi technology that allow pet owners to have real-time, highly accurate tracking information wherever their pets may be.
Paby eases worried pet owners' minds. (Source: Paby)
Paby is a stand-alone device which allows users to set virtual "fences" using their smartphones to receive real-time alerts when their pets have left a preset area. Paby has a durable band that fits any-sized collar. The activity tracker allows users to also track their pet's steps, calories burned, sleep patterns and intensity of their play time.
Paby weighs 31.6 grams, making it light and small. It also has a durable, waterproof design and is available in many colors and patterns. The product has an RGB LED flashing light and a high fidelity waterproof speaker that will play a sound to alert the user via the smartphone app when their pet has strayed. It also has a gel-state polymer lithium ion battery and is built to last with PC-ABS, laser direct structuring, UV coating and in-mold decoration.
Along with Paby, the GPS tracker, the user gets a free app that connects Paby to their smartphone. The app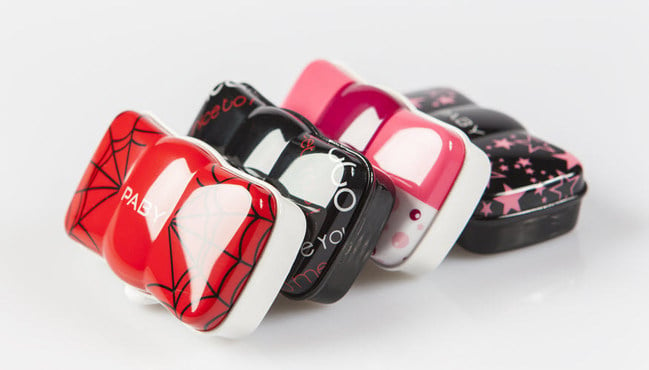 Paby comes in a variety of colors and patterns. (Source: Paby)
requires a cellular connection to properly track the pet. Users have two options for cellular coverage. Paby comes with a free SIM card which offers network subscription plans starting at $4.99 a month. The second option: customers who have either AT&T or T-Mobile have the option to use their existing wireless network.
Paby's app allows users to see custom reports and alerts, designate virtual fences and receive daily exercise recommendations that are personalized for the pet using breed, weight and age. The app tracks the pet using Google Maps. Users can share their pet's data with other Paby owners. Paby developed smart data and algorithms to provide information on recommended exercise for each pet.
To learn more about Paby, visit the site here.