We treat our pets like we treat other loved ones in that we worry about where they are, how healthy they are or if they are getting the proper amount of exercise and nutrition on a daily basis.
With the explosion of technological innovations in wearable electronics, it was only a matter of time before these technologies migrated to pets. And this trend is only increasing with more and more electronic gadgets being rolled out that target the animals we love.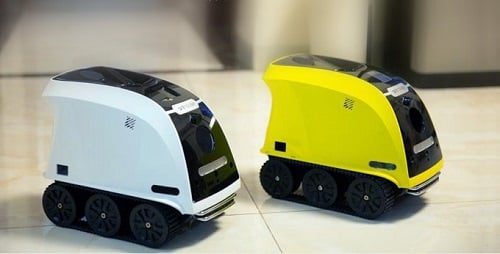 The pet companion robot. Source: Anthouse
Here are a few that have been released so far in 2017 that run the gamut between health monitors, GPS trackers and robots.
1) Anthouse Pet Companion
It is inevitable that we must leave our pets at home, sometimes for extended periods. Anthouse has created a robot aimed at interacting with your pet for times that you are away or for times when you want to play with your dog.
The robot is controlled via a smartphone app where you can dispense treats, record video, take photos, talk to your dog via built-in speaker or launch mini tennis balls. When the robot runs out of juice, it can automatically search for its wireless charging station to recharge its battery.
The Anthouse Pet Companion is available right now on Kickstarter for pre-order. Find out more details by visiting: https://www.kickstarter.com/projects/820876177/anthouse-pet-companion-robot/description
2) Kyon Tracker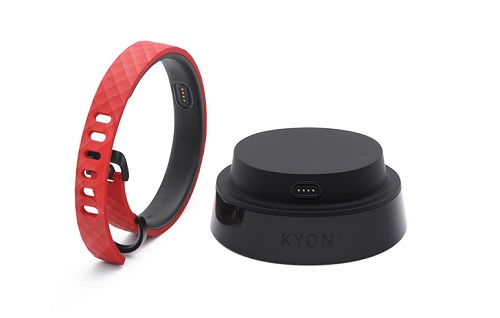 This collar helps track pet locations with GPS. Source: KyonThis smart collar is designed to help locate lost pets. About 10 million pets get lost each year and most are not microchipped, meaning they can't be tracked down. Kyon immediately alerts owners if a pet is missing and helps track its location as well as display helpful contact information on the collar itself, such as spelling out "I am lost" on the collar.
A user's smartphone or a base station creates a perimeter where your dog is in a safe zone of about 300 ft. If they escape, the 3D GPS tracking on the collar sends a notification to smartphones. The app on the phone also locates your pet. At the same time, the collar acts as a normal dog collar with areas for tags and leashes but it needs to be recharged occasionally at the base station.
3) Catspad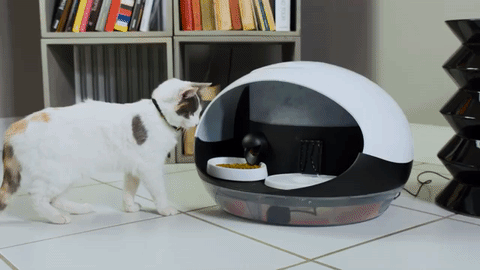 This cat gadget was created by a French startup to care for pets while people are away and help with keeping track of feeding schedule and nutrition. Catspad is a connected automatic food and water dispenser that is operated via a smartphone app. The app helps to identify your cat, shares food consumption data with you and your vet, monitor your cat's diet and receive notifications when food and water stocks are low.
4) AKC Smart Collar
Similar to the Kyon Tracker, the AKC Smart Collar has built-in, location-based GPS tracking so that you can keep tabs on where your pet goes and helps find it if it gets lost. However, this smart collar also provides precise activity tracking via a three-axis accelerometer that identifies moderate to intense movement.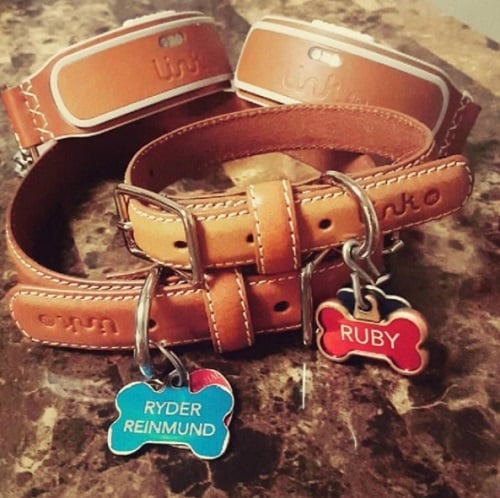 Using AI, the collar learns your activity level of your dog to better track its fitness. Source: AKCThe collar uses an artificial intelligence algorithm that learns what constitutes intense activity for your dog and adapts the data it sends out. It also alerts owners when a dog is too hot or cold. Via a smartphone app, the collar can consolidate vaccination records and set vet appointments. It also includes ways to remember and share adventures that you take with your dog via a virtual scrapbook and digital album.
The collar is water resistant up to three feet, is impact resistant and has a battery life of up to two days with normal use.
5) GoBone
GoBone is a dog toy that is used with an app-controlled smartphone designed to engage dogs in play regardless of the breed. In fact, the mobile bone adjusts its behavior based on dog's age, weight, breed and play style. The bone is effective for exercising animals or for training as it spins, flips over and roams around the floor encouraging a dog to play with it.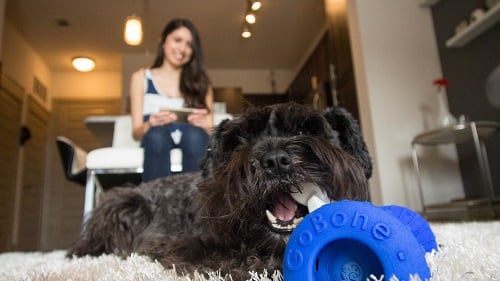 GoBone is a controllable bone that flips and does tricks. Source: GoBoneIt is made of durable materials but lightweight enough that dogs can carry it inside or outside. It comes in a variety of colors and the rechargeable battery lasts eight hours in autonomous mode and 30 minutes in manual mode. In autonomous mode, the GoBone moves around on its own moving about based on the parameters it establishes about each dog.
6) HurriK9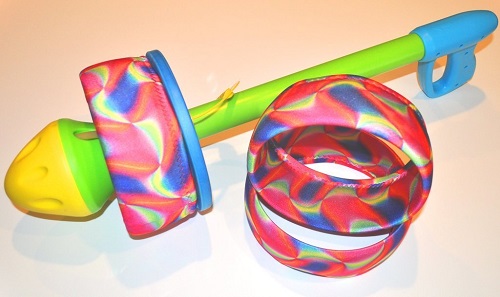 These rings can be launched up to 100 feet. Source: HurriK9Furthering the idea of getting pets more exercise, HurrIK9 is a ring launcher that changes how you play fetch with your pet. The ring was designed by an aerospace engineer that patterned the dog's toy after aerodynamic airplane wings. The gadget consists of a launcher and multiple rings that shoot up to 100 ft. The rings are made of EVA foam that is durable and self-healing, meaning it can take a beating from dogs' mouths, and they can float on water.
The launcher can be used both indoors and outdoors, is made of non-toxic material safe for dogs and there are even extra tough rings if you have a dog that likes to get rough with their toys.
7) Flexy Paw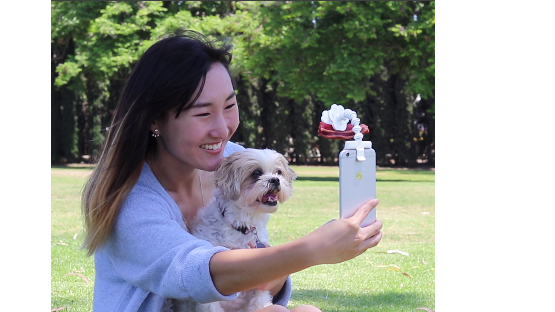 Take better dog selfies. Source: Flexy PawYou love your pet, you want to take pictures with your pet to put on social media, but he or she will never sit still for the photo. That's the idea behind Flexy Paw, a flexible arm that attaches to most smartphones and tablets that helps get the best pet selfie possible. You first slide the arm onto a smartphone then attach a treat or toy to the top of the arm. Your pet will sit and wait for the treat to be given to them and exposes the chance to grab a dog selfie.