During the European Utility Week (Nov. 3-5 in Vienna, Austria), ON Semiconductor will showcase its newly acquired sub 1 gigahertz RF devices it gained via its acquisition of Axsem AG.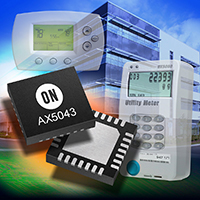 ON's AX5043 RF transceiver allows for a programmable radio architecture for configuration to many wireless communication standards and protocols. Source: ON Semi The devices from the radio IC vendor enable wireless connectivity and support for the Internet of Things (IoT), automatic meter reading, home automation, sensor networks and satellite communication markets. ON acquired Axsem in October for an undisclosed amount in order to increase its presence in the high-growth industrial IoT arena.
Among the newly gained devices include the AX5043 narrow-band, ultra-low power RF transceiver that allows for a programmable radio architecture for many wireless communication standards and protocols. The AX8052Fxx family of RF microcontrollers is designed to enable one-chip radio solutions for the IoT market and is compatible with a number of paging standards. The AX-Sigfox and AX-Sigfox-API are one-chip solutions for a node on the Sigfox network, that provides nationwide coverage and low-power consumption or transmitting and receiving the small amounts of data that cannot be addressed by established standards such as general packet radio service (GPRS) and long term evolution (LTE).
Ryan Cameron, VP of industrial and timing products at ON Semi, says in a statement that the diversity of IoT applications has increased the importance and rapid growth in the wireless technology area. The addition of Axsem AG's RF devices enhances ON's position in the ever-evolving IoT markets, Cameron says.
Questions or comments on this story? Contact engineering360editors@ihs.com
Related links:
News articles:
Mobile Sensors Out Smokers that Fall off the Wagon
Wireless MCUs Connect the Eyes and Ears of the Internet of Things
6-Axis Motion Sensor for Smartphones and Tablets Introduced by STMicroelectronics