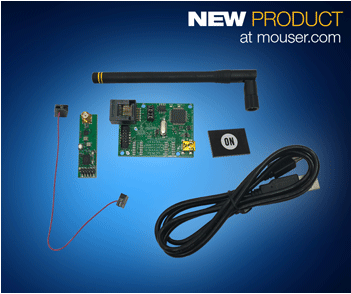 Source: Mouser Electronics
Mouser Electronics is now offering Sigfox connectivity solutions from ON Semiconductor. ON Semiconductor's family of Sigfox-compliant devices provides a range of hardware and software development tools for simplifying new designs for the Internet of Things (IoT) applications.
ON Semiconductor's Sigfox portfolio offers ultra-low-power connectivity devices and development kits to meet the needs of IoT devices that are transmitting small amounts of data. The AX-SFxx and AX-SFxx-API radio frequency (RF) transceivers provide single-chip solutions for a node of the Sigfox network, with up- and downlink functionality. The devices offer functionality in the radio configuration zones (RCZs) 1, 2, 3, 4 and 7 and are controlled by either AT commands (AX-SFxx) or through the AXSEM Sigfox Library (AS-SFxx-API). The devices have eight general-purpose input/output (GPIO) pins with receive and transmit (RX/TX) switching control.
Engineers can use ON Semiconductor Sigfox development kits to quickly develop the Sigfox-connected application using the Sigfox SoC solutions with an included two-year Sigfox subscription. The kits are pre-programmed with the Sigfox stack and a comprehensive and easy-to-use serial protocol based on AT commands. The kits have an SMA connector to allow for both conducted measurements, as well as radiated measurements using the included whip antenna.
ON Semiconductor's Sigfox connectivity solutions are ideal for building and home automation, automatic meter reading, control and lighting and sensor and asset tracking.
To learn more about these new connectivity solutions, visit the Mouser site here.