SigFox SA, a provider of cellular network technology dedicated to machine-to-machine (M2M) communications and the Internet of Things (IoT), has certified a number of RF modules based on Texas Instruments ICs that can be used to implement its narrowband network.
Specifically, SigFox (Labege, France) has certified modules based on TI's CC1120 narrowband transceiver IC. These include the SI868-25MW from Adeunis, the RC1780 from Radiocrafts and the LE51-868S from Telit, all for operation at 868MHz.
SigFox, founded in 2009, uses a proprietary ultra-narrow band (UNB) radio technology to provide a low-power cellular infrastructure that operates in ISM bands. In general, these networks operate in region-specific industrial scientific and medical (ISM) bands below 1GHz, including 169, 315, 433, 500, 868, 915 and 920 MHz.
The networks are proprietary by nature and tend to provide a more robust IoT connection with longer range and lower energy per bit transmitted than networks based on frequencies above 1GHz, including cellular telephony and Wi-Fi.
SigFox combines the long-range and low-power properties inherent at these frequencies with software defined radio (SDR) techniques performed at the basestation to achieve high sensitivity and therefore long distance communications at efficient energy levels. The base stations are said to operate over ranges of 3 to 10 kilometers in urban areas and up to 30 to 50 kilometers in rural areas.
SigFox also provides multiple techniques and layers of security for users' data. SigFox already claims to have a network providing 80 percent coverage of France and is now moving rapidly to roll the SigFox networks out in other countries by signing up operators.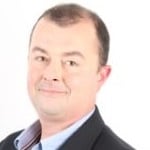 Stuart Lodge"TI's Sub-1GHz technology is an excellent fit for the SigFox network, because it supports long-range and high-capacity connectivity in a system-cost-optimized way that users everywhere require to fully benefit from the potential of the Internet of Things," says Stuart Lodge, executive vice president of global sales at SigFox, in a statement.
Lodge says TI's leverage of the SigFox technology will help the company more rapidly deploy its network in key markets.
TI wasn't the first chip vendor to receive SigFox certification. Atmel Corp. (San Jose, Calif.) in November 2014 announced that its ATA8520 was the first SigFox-certified system-on-chip solution. The ATA8520 is a sub-GHz SoC transceiver offering compatibility from 315MHz to 915MHz.
The SigFox IoT network is already operating in several European countries and deployment is due in the United States in 2015. The company has started deployments in San Francisco with an unnamed partner and aims to offer 90% coverage of the U.S. by population within three years.
Questions or comments on this story? Contact: peter.clarke@ihs.com
Related links and articles:
IHS Connectivity and IoT Research
News articles: