At this week's MEMS Congress (Nov. 4-6 in Napa, CA), Bosch will be showcasing four of its newest microelectromechanical systems (MEMS) for mobile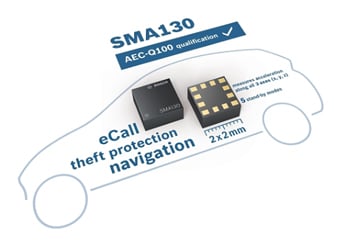 Bosch's SMA130 tri-axial acceleration sensor features five standby modes for automotive applicationsdevices and automotive applications.
The SMA130 is what Bosch claims to be the world' smallest tri-axial acceleration sensor for automotive applications. The device includes five standby modes and measures acceleration along all three axis of the MEMS device.
The BMF055 MEMS sensor is the first custom, programmable nine-axis motion sensor with accompanying software to provide customers with an easy method of integrated sensor fusion functionality into devices. The AKU151 and AKU350 high-performance MEMS microphones combine ASIC design elements, a new MEMS architecture and fabrication process. The two microphones also include new packaging technologies designed to work better with mobile and wearable applications, the company says.
Questions or comments on this story? Contact engineering360editors@ihs.com
Related links:
News articles:
InvenSense Enters Automotive MEMS Market
mCube Releases Tiny 3-Axis Accelerometer
MEMS Executive Congress Reveals Showcase Finalists