The MEMS Industry Group (MIG) has announced the shortlist of finalists who will compete for the MEMS & Sensor Technology Showcase crown. The five finalists include:
MonBaby – A breathing and rollover monitor that attaches to a child's clothing and warns of a rollover or if the child stops breathing.
BoscheBike Systems – Bosch MPU and sensors boost human power with electric power with speeds to 20 mph.
Voltafield Magnetic Sensor – A 1.1mm x 1.1mm device, a new component for e-compass and motion sensing in wearables.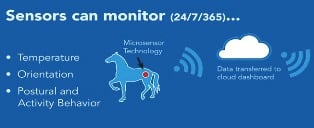 A horse health analytics solution is one of five finalists.Horse Sense Shoes – MEMS-based horse wearables that offer non-invasive horse health sensing.
Cambridge CMOS Gas Sensor – Metal oxide gas sensor and MCU combo assess indoor air quality from smartphone or standalone device.
The Showcase is scheduled on November 4, 2015 from 10:45 to 11:45am at the conference.
Related Links:
For conference information and registration, visit: http://us2015.memscongress.com/registration