Seeing an opportunity to capitalize on emerging markets in automotive technology, InvenSense Inc. has expanded its microelectromechanical systems (MEMS) products to evolving safety and non-safety automotive applications.
With increased demand coming from consumers for personalized in-vehicle experience, improved safety, automated driving and predictable maintenance systems, automotive OEMs and subsystem suppliers are seeking to improve system reliability, cost and time-to-market, the company says.
InvenSense is targeting this market with its MEMS-based motion tracking devices and microphones, algorithmic insights and processor integration technologies. The first product, IAM-20680, is a six-axis gyroscope and accelerometer combination that provides a small form factor with noise and offset stability for motion detection performance for a variety of in-cabin solutions such as navigation, lift gate motion detection,advanced driver assistance systems (ADAS) camera and image stabilization.
The San Jose, Calif.-based company is offering up its InvenSense Positioning Library (IPL) for the automotive market that improves vehicle navigation systems using sensor data from the gyroscope and accelerometer for more accurate location data. The company is also developing new gyroscope combinations for safety applications such as skid control, roll detection and electronic stability control.
"The automotive industry is approaching a tipping point of disruption, with innovations coming from companies outside the traditional automotive ecosystem, creating ever-increasing demand for novel sensor assisted systems," says Behrooz Abdi, president and CEO of InvenSense. Abdi says the company has forged a strategic alliance with a leading sensor and system partner for development of sensor technology for the automotive market that has the potential to shorten time-to-market from five years to two to three years.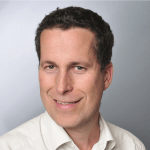 Jérémie Bouchaud, director of MEMS & Sensors at IHS
"The barrier to entry in the automotive market is finally lowering, with strong demand for faster innovation and new sensors capabilities," says Jérémie Bouchaud, director of MEMS & Sensors at IHS. "To attain a higher level of performance and mounting flexibility and improved in-cabin convenience and automation, there is a shift in supply chain toward consumer electronics companies leveraging large volume scale and faster time to market. Although the majority of today's devices are still dedicated automotive components, especially in the harsh environments of brakes or injection systems, there are a number of significant examples of consumer device adoption even for safety applications."
Bouchaud says the automotive MEMS sector represents about 25% of the overall MEMS market with a forecasted revenue of $2.57 billion this year. The market is expected to remain healthy for the coming years as a result of mandates on key safety systems and government pressure to reduce emissions in engines, he says.