Microelectromechanical systems (MEMS) vendor mCube has rolled out a tiny 3-axis accelerometer the company claims is 75% smaller than current devices on the market.
The accelerometer, dubbed the MC3571, is less than a cubic millimeter in total size compared to 2x2mm in current accelerometers on the market, mCube says. With this size, designers will be able to create a next-generation of products that require ultra-small sensor form factors.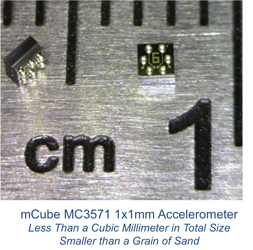 Photo of the 1x1mm accelerometer from mCube. Source: mCube Using a wafer level chip scale package (WLCSP), the device is smaller than a grain of sand, mCube says. It is being targeted at new products in the realm of mobile phones, surgical devices and consumer products.
"This advancement demonstrates how our monolithic technology can unleash amazing possibilities for designers to create exciting new products that could never be possible with today's standard 2x2mm sensors," says Ben Lee, president and CEO of mCube.
The device was created using mCube's 3D monolithic single-chip MEMS technology platform in which the sensors are fabricated directly on top of the IC electronics in a standard CMOS fabrication facility. mCube says this allows for a smaller size, higher performance, lower cost and the ability to integrate multiple sensors on a single chip.
Samples are available now to select lead customers with volume production scheduled for the second quarter of 2016.
Questions or comments on this story? Contact engineering360editors@ihs.com
Related links:
News articles:
MEMS Executive Congress Reveals Showcase Finalists
mCube Claims Smallest Most Powerful Wearables Accelerometer
MEMS+ 6.0 Platform Targets MEMS/IoT
6-Axis Motion Sensor for Smartphones and Tablets Introduced by STMicroelectronics