The Internet of Things will require many microelectromechanical system (MEMS) devices and sensors to work – billions of such components, by some estimates. The growth of the market will depend on a number of issues, such as manufacturing, pricing, security measures, and software.
Consumer applications, such as the accelerometers and gyroscopes going into smartphones and tablet computers, currently dominate the MEMS and sensor market. Automotive and industrial applications, which originally made up most of the MEMS/sensor market, are regaining importance as manufacturers implement Internet of Things technologies.
InvenSense, a supplier that gets 78 percent of its revenue from sensors for mobile devices (optical image stabilization, gaming, and other applications account for the rest), announced in late October that it will enter the automotive sensor market.
In the growing recognition of how much MEMS sensors and non-MEMS sensors complement each other, the MEMS Industry Group in November decided to change its name to the MEMS & Sensors Industry Group.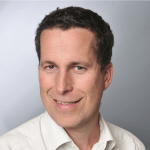 Jérémie Bouchaud, IHS Technology's senior director of MEMS and sensors.
Jérémie Bouchaud, IHS Technology's senior director of MEMS and sensors, forecasts the MEMS market will increase from about $10 billion in 2015 to nearly $14 billion in 2019, exhibiting a compound annual growth rate of 7.6 percent in that period.
Consumer and mobile MEMS applications will post a CAGR of 13.4 percent from 2014 to 2019, according to Bouchaud, and will remain the leading applications in the period, followed by automotive, data processing, industrial, medical electronics, military and civil aerospace, and wired communications.
Bulk acoustic wave (BAW) filters and MEMS microphones will enjoy the greatest growth through 2019, among specific product segments, while MEMS pressure sensors will remain a leading segment and growth will flatten for accelerometers and gyroscopes, Bouchaud predicts.
BAW filters owe their growth to wider implementation of Long-Term Evolution (LTE) wireless communications around the world. While those filters have experienced some price erosion, they still enjoy a significant price premium over surface acoustic wave filters, Bouchaud says. Apple's iPhone 6s contains more than 20 BAW filter dies, he notes.
MEMS microphones have also seen increased use in smartphones, with four of them in the iPhone 6s, compared with three in the iPhone 5, iPhone 5s, iPhone 6, and iPhone 6+ models.
While MEMS microphones have traditionally relied upon capacitive technology, Vesper is leading a transition to piezoelectric technology, which is expected to increase the performance of those components, a factor that will help stave off falling prices. Bouchaud also looks to next-generation capacitive MEMS microphones and optical MEMS microphones to improve performance.
Motion and pressure sensors have reached the saturation point in the market, which has combined with the slowdown in China's economy to make smartphone and automotive MEMS devices into commodity parts, subject to pricing stress, the IHS Technology analyst notes.
The situation in China's smartphone industry is having on impact on a number of top vendors, according to Bouchaud – namely, Bosch Sensortec, STMicroelectronics, Knowles, and the Kionix unit of ROHM Group.
Volkswagen's "Dieselgate" emission-testing scandal is likely to have a positive effect for sensor suppliers, increasing business for Sensata Technologies, Heraeus, DENSO, and Bosch, Bouchaud asserts.
Speaking last month at the MEMS Executive Congress US in Napa, CA, Bouchaud points to "the consumerization of the automotive MEMS supplier landscape," meaning auto MEMS are becoming more like the mobile sensors for consumer electronics.

Bosch Sensors.
InvenSense is among the top 10 suppliers of MEMS and sensors in the world, according to IHS Technology. (Bosch is number one, with Texas Instruments and Avago Technologies battling this year for second place, and STMicroelectronics continuing to fade among MEMS vendors.)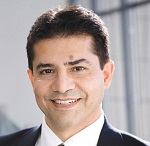 Behrooz Abdi, InvenSense's president and chief executive officer., last month acknowledged at the InvenSense Developers Conference in Santa Clara, CA, that mobile sensors make up much of the company's revenue, while adding, "We're moving beyond those sensors, thanks to a lot of developers."
The Internet of Things business accounted for 20 percent of InvenSense's revenue in the company's fiscal second quarter, "double what it was," Abdi told developers. "It came from so many applications – drones, wearables, toys," he adds.
InvenSense knows that sensor system-on-a-chip devices are needed for the IoT, according to Abdi. Such chips must "analyze and decide at the node," providing context to the raw data they collect, he says.
Security and software issues were a popular topic among speakers at the MEMS Executive Congress, and Abdi echoed those concerns in his keynote address at the developers' conference. "We think you should be able to trust your sensor," he says.
To that end, InvenSense introduced a number of product and service offerings at the conference, including the TrustedSensor, developed in collaboration with Intrinsic-ID, the Royal Philips spinout based in the Netherlands.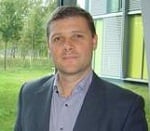 Pim Tuyls, the founder and CEO of Intrinsic-ID.
Pim Tuyls, the founder and CEO of Intrinsic-ID, made a presentation on TrustedSensor at the conference, saying the part will go out to alpha and beta customers during the first half of 2016. "The trusted sensor is at the heart of the Internet of Things," he says. "Sensors are the first line of defense."
Will MEMS and sensor suppliers be able to work with their developers and partners to resolve the security and software issues in the Internet of Things? Much is riding on the answer to that question.