QuickLogic has searched for, and found, an appropriate name for its new multi-core sensor processing system on chip (SoC) platform—aptly dubbed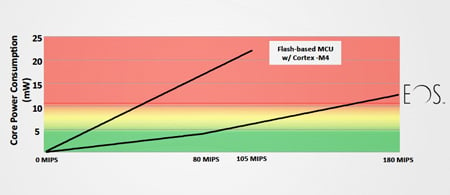 A comparison of compute capability between ARM M4F-based MCU sensor hub and QuickLogic's EOS platform. Source: QuickLogic CorporationEOS—for a Titan goddess of the dawn in Greek mythology. The platform emerges as a tiered architecture with world-class 80% greater compute capability than ARM M4F-based MCU sensor hubs, and dedicated voice processing architecture enabling always-on voice apps at less than 350 microAmps (µA).
The EOS S3 sensor-processing platform incorporates three dedicated processing engines:
QuickLogic's µDSP-like Flexible Fusion Engine (FFE).
ARM Cortex M4F Microcontroller (MCU).
Front-end sensor manager.
As the FFE and sensor manager handle the bulk of algorithm processing, the duty cycle for the floating point MCU is minimized, lowering aggregate power consumption. The result is that mobile, wearable and IoT device designers can generate sensor-driven applications that operate within an ultra-low power budget. Examples of such apps include pedestrian dead reckoning (PDR), indoor navigation, motion compensated heart rate monitoring, and other advanced biological uses.
QuickLogic also announced that it is partnering with voice and vision leader, Sensory Inc. to deeply embed Sensory's TrulyHandsfree software and advanced voice recognition solution in the EOS S3 sensor processing platform.
The hardened system blocks included in the EOS platform are designed to provide integrated voice trigger and command and control functionality at ultra-low power levels, enabling a vast array of voice-driven applications without being connected to cloud services.
A dedicated Pulse Density Modulation (PDM) -to- Pulse Code Modulation (PCM) conversion block and Sensory's Low Power Sound Detector (LPSD) technology enable the EOS system's always-on voice triggering and recognition, while consuming less than 350µA. The EOS platform provides 2,800 effective logic cells of in-system reprogrammable logic that can be used for an additional FFE or customer-specific hardware differentiated features.
The EOS SoC maximizes the efficiency of QuickLogic's SenseMe™ algorithm library. The EOS S3 platform and SenseMe library are compliant with Android Lollipop and a variety of Real-Time Operating Systems (RTOS). The platform supports third party and customer-developed algorithms through QuickLogic's Eclipse Integrated Development Environment (IDE) plugin.
IHS iSuppli forecasts, the total available market for sensor processing solutions in smartphone, tablet and wearable applications will reach 2 billion units in 2019.
"We expect that the annual market for embedded processors as sensor hubs in handsets, tablets and wearable health and fitness devices will exceed 2 billion units by 2019," says Tom Hackenberg, principal analyst at IHS Technology. "This market growth is driven by an increase in the number of sensors in each product as the devices transition from simple products like pedometers, to sophisticated, multipurpose devices that feature always-on capabilities. Providing these demanding capabilities without sacrificing battery life makes power consumption a major factor in the success of these advanced devices. Power efficient sensor hubs, such as QuickLogic's EOS platform, will be the enabling hardware that allows device designers to quickly and easily incorporate multiple advanced features without increasing power drain."
Integrated logic allows digital input from PDM as well as Inter-IC Sound (I2S) microphones, and provides PDM to PCM conversion for processing with Sensory's TrulyHandsfree software. Also hard coded is Sensory's Low Power Sound Detector (LPSD) technology, which allows the speech recognizer to be suspended while an ultra-low power sound detector is running and listening for what could be speech.
The integrated system supports a wide range of features including highly noise robust always-on, always-listening fixed triggers, enrolled fixed triggers, user defined triggers and passphrases, and up to 20 phrase spotted commands that can be accurately detected in silent to extremely noisy environments. Embedding functionality in hardware dramatically reduces power consumption, enabling always-on voice triggering at a draw of less than 350µA.
"QuickLogic's new EOS sensor platform is groundbreaking, and we are excited to have enhanced its capabilities by providing our TrulyHandsfree voice control technology complemented by our ultra-low power sound detector in the form of an embedded block," says Bernard Brafman, vice president of business development at Sensory.
"Sensory is the industry leader in voice processing systems for mobile applications," says Dr. Frank A. Shemansky, Jr., senior director of product management at QuickLogic Corporation. "Integration of Sensory's TrulyHandsfree and LPSD technologies with the QuickLogic EOS sensor processing system provides unprecedented always-on voice capability, and will facilitate a new generation of voice-driven applications."
Sensory's TrulyHandsfree firmware and hardware low-power sound detector (LPSD) are included in QuickLogic's advanced EOS sensor processing SoC. Samples of the EOS sensor-processing platform will be available in September 2015.
To contact the author of this article, email engineering360editors@ihs.com
Related Links: