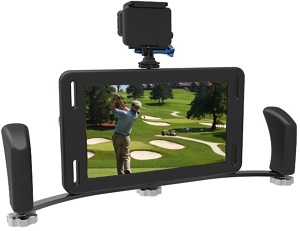 The SunScreen Eos with optional grip system and camera. (Source: SunScreen Display Technologies)SunScreen Display Technologies LLC has launched the first in a family of sunlight-readable display products.
The liquid crystal displays (LCDs) are designed specifically for outdoor use where display devices typically are difficult to view in direct sunlight. The SunScreen Eos device combines proprietary backlighting, color filtering, glare reduction and power management to achieve up to five times the brightness of most smartphones or computer displays.
The display can also be attached to an optional grip system and an action camera attached to a portable unit that is wireless controlled by a smartphone or directly with a laptop.
SunScreen will begin an Indiegogo crowdfunding campaign in order to help launch the platform and fund further development and production of the SunScreen Eos that is slated for release in the fall of this year. The campaign begins on June 26 and more information can be garnered by visiting the company's web site.