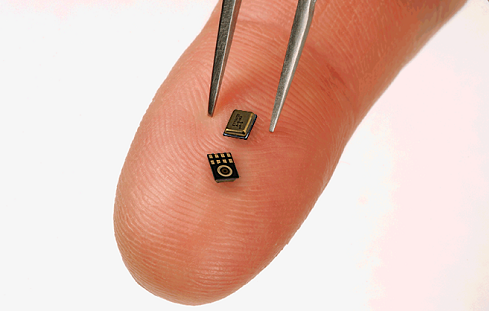 The IA-610 smart microphone. Source: KnowlesKnowles Corp. has introduced a new smart microelectromechanical systems (MEMS) microphone that combines with an open digital signal processor (DSP) in a single subminiature package.
The IA-610 smart microphone is similar in size to a MEMS microphone found in today's smartphones and enables features like voice wake with voice commands, spatial recordings and acoustic event detection such as breaking glass or an infant crying.
Knowles claims the IA-610 is the first customizable solution in a single package that simplifies audio design and can reduce total system costs.
The MEMS device is also the first embedded device to adopt the MIPI SoundWire interface, Knowles says. The MIPI Alliance selected the interface to simplify the design integration process in order to meet new designs. The interface minimizes costs, pin count and power consumption, the company says.
The MEMS microphone connects all major audio and data interfaces such as PDM, I2S, SDW, SPI, UART and I2C and includes a low power sound detector (LPSD), audio processing algorithm with acoustic activity technology licensed as IP Block from Sensory Inc.