Looking to boost savings and increase back-up supply of television display panels, Samsung Electronics and LG Electronics plan to rely less on captive panel suppliers and more on outsourcing to get their display panels, according to a new report from IHS.
The two South Korean TV brands comprised 41 percent of all total TV panel shipments in 2015, down from 46 percent in 2014, IHS says. IHS forecasts this decline will continue this year dropping to 37 percent.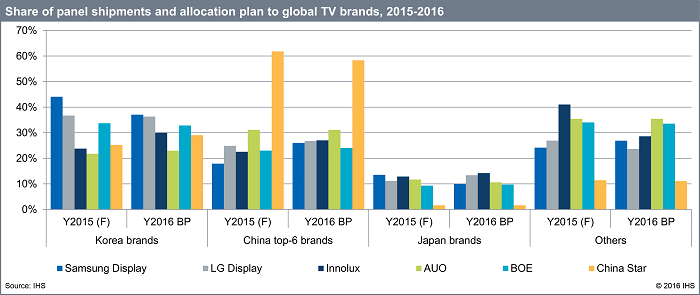 Shares of flat panel TV shipments and allocation plans are shifting due to project limited growth in the market this year. (Source: IHS) "During a downturn in the business cycle, TV brands have tended to purchase panels primarily from their own captive suppliers," says Deborah Yang, director of display supply chain research and analysis at IHS. "This year, however, TV brands are uncharacteristically lowering their reliance on internal supply and instead outsourcing more to vendors in China and Taiwan, which have become better aligned with their product lineups. The external vendors have also become more competitive in supply availability, panel pricing and quality."
Yang says the move to outsourcing is an attempt to keep their leading position in the TV market as well as to better compete with other brands, particularly those in China. Lowering their reliance on captive panel suppliers and buying panels from Taiwan in 2016 will enable these large TV brands to continue to leverage their growing Chinese panel supply base and reduce cost, Yang says.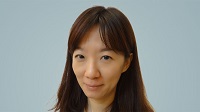 Deborah Yang, director of display supply chain research and analysis at IHS IHS forecasts limited growth for TV demand this year so there is an increased risk to the supply chain especially for those that heavily rely on leading TV brands that now dominate purchasing and influence panel allocations and will continue to do so in 2016. "The bleak forecast is responsible for the panel oversupply, one of the critical reasons for the significant TV panel price corrections in the second half of 2015," Yang says.
Yang suggests that both Samsung and LG as well as panel makers will need to come up with strategies to better navigate what has become a hazardous market landscape, succeed in increasing panel sizes and, most importantly, survive if their capacity cannot be filled by the demand.
To contact the author of this article, email engineering360editors@ihs.com