Consumers are watching more pay TV than ever before. Last year, pay TV services including those from cable providers, satellite providers, telcos and over-the-top (OTT) video services raked in $237 billion in revenue, according to a new report from IHS.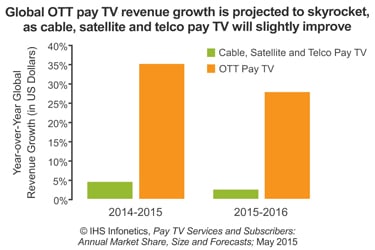 Pay TV services was up 7% from 2013. Source: IHSThis amount was 7% more than what the pay TV market recorded for revenue in 2013, IHS says. One of the reasons for the expansion, says Jeff Heynen, research director for broadband access and pay TV at IHS, was the expanding presence made by service providers to include OTT services as apps on tablets and third-party OTT media servers.
Specific providers are targeting different demographics as well, IHS says. Dish Networks, the second largest satellite provider in the U.S., has rolled out an OTT video service called Sling TV that is aimed directly at those not interested in watching content on a traditional television set. Other providers, such as Verizon, have gone so far as to introduce multiple bundles of channels that subscribers can add on to a basic channel lineup creating a customized channel set, Heynen says.
However, this type of OTT services may have a bit of a backlash in the long term. "The net result of these offerings will be slower revenue growth globally as OTT services carry a lower ARPU," Heynen says.
IHS highlighted a number of other trends happening in the pay TV space in its new report, including:
Subscribers of pay TV grew to 800 million last year, up 5% year-over-year with the strong growth coming from OTT.
IHS forecasts OTT will have the highest compound annual growth rate (CAGR) of any pay TV service through 2019.
Cable pay TV revenue growth slowed to only 1.8% due to subscriber growth stalling in North America.
Questions or comments on this story? Contact dylan.mcgrath@ihs.com
Related links:
News articles: