Carrefour SA, the largest retailer in Europe, is experimenting with visible light communications (VLC), becoming the first major retailer to install Royal Philips' connected lighting system with LED-based indoor positioning at its newly refurbished supermarket in Lille, France.
The Carrefour news comes about a month after it was reported that U.S. retailer Target will use indoor positioning, widely believed to be VLC-based, to power its in-store app to help customers navigate its stores.
VLC is a technology that uses LEDs to transmit data for applications such as indoor positioning. The technology has been in development for some time, but its deployment is suddenly being accelerated as LEDs displace conventional lighting technologies in retail stores and beyond.
At the recent Lightfair 2015 in New York, VLC was one of the most prominent topics, with Acuity Brands showcasing a working prototype of indoor location technology based on VLC.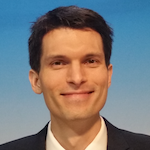 Fabian HoelzenbeinFabian Hoelzenbein, an analyst with the Lighting and LEDs team at IHS Technology, says the acceleration of VLC's deployment is something that might have seemed far away a few months ago, but the technology has gained significant momentum. "This is really taking off," Hoelzenbein says. "Target showed their indoor positioning system without giving technical details or naming their supplier. Now, a month later, Philips is obviously confident enough about their VLC system to use the Carrefour installation for advertising the system."
According to Hoelzenbein, large retail stores are an obvious target application for VLC because the technology can deliver both indoor positioning to guide customers to the products they are interested in and also send them targeted advertisements and coupons based on the section of the store they are browsing.
"Stores are the most obvious thing you could use it for," says Hoelzenbein. "We have seen more and more retailers move to LED lighting in order to reach ambitious energy saving goals. If they are changing their lights anyway, they can now have all these added benefits without installing a separate system."
VLC, which uses LEDs to transmit data, is considered a promising technology for indoor positioning, competing with—and in some cases being used in conjunction with—other technologies such as Wi-Fi, smartphone sensors and systems that use Bluetooth with a series of beacons positioned throughout a building. Data is transmitted through specially designed LEDs in millisecond high-frequency lighting pulses that cannot be seen by the human eye but can be detected by a smartphone or tablet.
According to a report published in November 2014, IHS believes that indoor positioning technology will grow rapidly in coming years, particularly in retail stores. In addition to benefits such as social networking and targeted advertising, the firm projects that the growth of indoor positioning technology will yield less obvious benefits that have yet to be identified.
IHS projects that the number of digital maps available for indoor positioning will grow at a compound annual rate of 24% from 2014 through 2020, reaching more than 220,000.
For indoor positioning, VLC is expected to compete with other technologies, such as Wi-Fi and Bluetooth. But Wi-Fi's accuracy as an indoor positioning technology is limited, and using Bluetooth for indoor positioning requires additional hardware in the form of beacons.
IHS believes that VLC makes the most sense for indoor positioning. However, VLC's potential is limited by the adoption rate of LEDs. Only a small portion of existing lighting is LED lighting, and this is projected to remain the case for the next several years.
In addition to enabling shoppers to navigate and find promotions, the LED lighting system installed by Carrefour will reduce the market's total lighting-based electricity consumption by 50%, according to Philips.
Philips also emphasizes that VLC for indoor positioning can improve retailers' staff efficiency. The technology can enable staff to locate and find products more easily, and assist with the tagging and restocking of products, Philips says.
Philips' indoor positioning system consists of LED fixtures, a cloud-based location database and a Philips software development kit that customers can use to build their mobile interaction platform.
Philips says the system in operation at the Carrefour supermarket in Lille comprises 800 linear LED fixtures that use Philips VLC technology to transmit. Philips software and cloud-based location database were integrated into Carrefour's mobile app as part of the installation, Philips says.
Questions or comments on this story? Contact dylan.mcgrath@ihs.com
Related links and articles:
IHS Technology Lighting and LEDs
News articles: