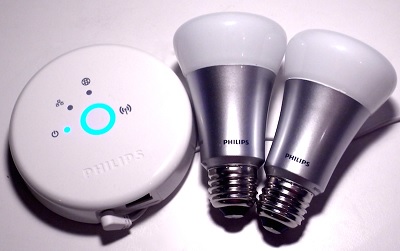 Source: Sho Hashimoto | CC BY 2.0Future architecture optimizes efficiencies by incorporating smart LEDs and embracing the internet of things (IoT). It has been proven that IoT can drastically reduce operating expenses, and it allows for automation of lighting controls or otherwise enables users to control brightness, color temperature and hue via computers and other connected devices. Competing technologies have emerged and the future of architecture looks to embrace internet-based building automation networks and Power over Ethernet (PoE).
The Ernst & Young (EY) Tower
In Toronto, Oxford Properties' 42-floor skyscraper, the EY Tower, is equipped with an internet-based building automation network that allows tenants to tap into it so long as the smart LEDs and other connected smart devices are IP addressable and use a supported protocol for communication.
Prospective tenants need to adhere to a few basic requirements in order to reap the benefits from their smart devices. Smart LEDs and other connected devices need to conform to the TCP/IP (v.4) standard for data communications and use either BACnet or another industry standard protocol, such as REST or JSON for message passing.
The EY tower is one of the world's tallest smart lighting office installations. Located at 100 Adelaide Street West Toronto, Ontario, it has an erected height of 617 feet and a total area of 900,000 square feet, featuring an outdoor terrace on the sixth floor, and EY tower is LEED Platinum certified. While the EY Tower is on the vanguard of modern lighting controls, it does not include PoE lighting, which is designed to supply both electricity and data to LED lights.
Power over Ethernet
If smart LEDs are destined to dictate future architecture, PoE may be the future indoor commercial office lighting system that takes over.
PoE connected luminaires route both electricity and data to luminaires over Ethernet cables. They are a lower voltage cable that does not require a certified electrician for installation. They replace conventional 120-volt and 240-volt electrical circuits and in turn, create an information network that powers and controls your lighting system with the added functionality of employing other IoT technologies such as visible light communications (VLC).
VLC is the method of embedding data in LED light waves. This allows each luminaire to communicate with phones, laptops and other devices that incorporate a photodiode, and they can transmit signals at speeds up to 500 megabits per second.
Akin to Toronto's EY Tower, Philips Lighting and Cisco are wiring 14 of the 32 floors in the 400-foot Torre Europa in Madrid's financial district with 5,400 PoE-connected luminaires making it one of the largest known installations of PoE lighting.
Residential Smart Lighting Systems
Latest architectures look to revolutionize the way building networks and electrical circuits are wired. The design is not only feasible, but promising, and while future commercial architecture and refurbishments deploy PoE lighting and internet-based building automation networks there are several ways to bring the power of Smart LEDs into your home without re-wiring.
Smarts LEDs that feature built in Wi-Fi are configurable with any connected device. Smart plugs are another method of achieving the same result and may be the preferred method if you have a dedicated outlet for a floor lamp that then becomes a Smart lamp. These options allow you to control small spaces, but if you aim to equip your entire home with Smart LEDs, numerous designs must be considered.
Z-wave and Zigbee Smart LEDs have received praise, and even though they require a central hub, the individual Smart LEDs are far more economical. Communication of these devices overcomes their limited transmission distances by the establishment of a mesh network and the low power signal may win the battle over Wi-Fi-configurable Smart LEDs as bandwidth issues are resolved through the use of a priority protocol.
Future architecture continues to evolve as best-in-class devices are deployed globally. Dedicated networks, PoE, Zigbee, Z-wave, and Wi-Fi-enabled devices are allowing users to reduce their power needs while experiencing ideal lighting conditions. In this case, users get the best of both worlds, better lighting at a lower cost of ownership.

Resources:
Smart Bulbs vs. Smart Switches: The Pros and Cons of Connected Lighting
Smart Lighting System Rises at Toronto Skyscraper with IP Addressable LEDs and a Real Estate Push
Towering Power-over-Ethernet: Philips, Cisco Wire Madrid Skyscraper with IoT Lighting