Industrial semiconductor revenue is projected to grow to $38.5 billion in 2014, up 13 percent from 2013, due largely to strong sales in China and a resurgent U.S. economy, according to a report from IHS Technology.
The year is projected to represent the second consecutive year of double-digit revenue growth for industrial semiconductors, sales of which increased 11 percent last year to reach $34 billion, IHS said.
"Rising demand for industrial semiconductors in the United States is being driven by a wide range of positive economic factors that are boosting the manufacturing sector," said Robbie Galoso, principal analyst for IHS, in a statement.
Galoso said the Chinese government's stimulus programs in several product markets are also promoting broad-based strength for various industrial electronics areas. "The robust performance in both countries kept spending on industrial semiconductors on track in the second quarter and set the stage for accelerated growth for the entire year of 2014," Galoso added.
Industrial semiconductor growth in the U.S. this year is being driven by several factors, including a more stable housing market, improved consumer finances, and credit and increased capital spending, IHS said. This will cause annual growth in the U.S. industrial semiconductor market to rise by about 2 percent in 2014 compared to 2013.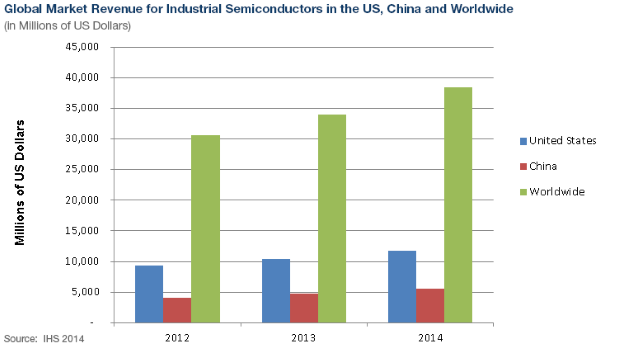 The U.S. is the No. 1 market for industrial chips, representing about 31 percent of worldwide revenue in 2013, IHS said. China is the second largest market for industrial semiconductors, representing about 14 percent of total revenues in 2013, according to IHS.
Light-emitting diodes (LEDs) represent one of the fastest growing product sectors within the industrial semiconductor market. IHS projects that sales of LEDs will grow more than 12 percent in 2014 compared to 2013, propelled chiefly by the increased use of LEDs for general lighting applications.
Related links: