The use of light emitting diode (LED) lighting has grown substantially in recent years as cities and municipalities have installed the devices in street lights and buildings in an effort to reduce energy costs and shrink their carbon footprint.
Smart and connected lighting used in commercial applications is forecast to continue growing as well, reaching $21 billion by 2022, up from $7.2 billion in 2018, maintaining a compound annual growth rate of 21%, according to market research firm IHS Markit.
As more street lights and commercial infrastructure are switched to connected smart LED lights, opportunities are emerging to fuse other smart city technologies with smart lighting.
One driver is the emergence of 5G, the next-generation wireless communications technology that is set to debut in 2019 with the release of smartphones and network upgrades to take advantage of faster speeds.
However, because the initial 5G technology rollout is likely to be limited in coverage, many more base stations will be required to ensure coverage and build connections for uses such as ultra-reliable low-latency communication (URLLC)-based autonomous driving.
Engineers are looking to street lighting as the solution for 5G base station placement across smart cities.
Wang Shen, senior analyst of LEDs and lighting at IHS Markit, told Electronics360 that smart road-lighting prototypes are in development to enable this convergence of technology, particularly in China with micro 5G stations.
Shen said the advantages of equipping street lights with 5G base stations include:
The ability to share the power supply, helping to avoid separate cabling costs
The base station can be monitored easily by sensors on the pole, reducing management cost
The installation density will be much higher, ensuring coverage in cities
The 5G street lights would save the cost of renting installation locations on top of buildings or in downtown areas
5G on lighting poles will offer a convenient access to cloud-based autonomous driving technology.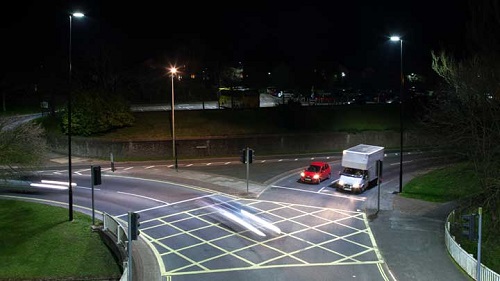 Street lights could share power with 5G base stations, reduce management costs and provide better coverage to cities. Source: Signify This wouldn't be the first time wireless communication networks were grafted onto street lighting.
Currently, street lights are in service that are integrated with 4G microstations. These lights use that network to control the road lighting management system. Shen said the same pattern would apply to a 5G network.
While it is unlikely this will happen in 2019 because of the volume of infrastructure devices and networks currently under construction, the beginning phases of 5G street lights will likely kick off in the near future.
"I am looking forward to seeing some small scale pilot projects or good prototypes in 2019, and more real projects in the coming couple of years," Shen said.
Initial 5G base stations likely will be limited in what they can provide to a smart city. Future iterations, however, may include relaying traffic information to drivers and providing emergency evacuation directions or warnings by blinking or changing colors. Introducing 5G to street lights also may enable additional functionalities as well, including real-time display, hot-spot support and cloud-based autonomous driving, Shen said.
"Controlling road lighting by 5G could save energy and lifetime by real-time dimming," Shen said. "However, given that there are strict rules to install 5G base stations, it will limit the design flexibility of lighting poles." So far, it is not clear what the extent of the limitation will be, Shen said.
LED lighting trends for 2019
Beyond street-light 5G base stations, another trend to watch in LED lighting in 2019 is further integration into the smart home. Home lighting was an early adopter of LED technology. As the market matures, the human-machine interface for lighting control is expected to transition to automated control-based sensors and machine-learning technology. Shen said this represents the next frontier for smart home technology.
Other trends include advances in human-centric lighting focused on visual comfort and visual performance that describe the perceptual feeling and the ability to accomplish visual tasks in the lighting environment. This will help increase public awareness of the relationship between lighting and health, Shen said.
Visible light communication (VLC), or the ability for connected devices to access the internet through light, also will edge toward commercialization in the coming months. While high-speed VLC remains some years away, the technology may hold promise for large indoor spaces such as shopping malls or airport terminals. The technology could be combined with commercial promotions to add value or promote the venue itself.
Other trends will be growth in agricultural lighting, a greater emphasis on user privacy and data security and the rise of decorative outdoor dynamic lighting in urban areas, particularly in the Chinese market.