The age of compact fluorescent lamps (CFLs) may be coming to a close after GE Lighting's low-cost light emitting diode (LED) release has pushed the lighting industry to a tipping point.
Price point continues to be the main factor among consumers when buying light bulbs. After incandescent bulbs were banned in many parts of the world, consumers switched to halogen—the next cheapest but inefficient alternative. As consumers desire more "green" bulbs, they chose CFLs instead of LEDs largely because of the price difference.
Now, with GE's recent release of its Bright Stik 3-pack at U.S. retailer Home Depot selling for $10 and Philips' LED A19 product line at $4.97, high-quality LEDs have reached price parity with CFLs. But LED bulbs come additional benefits such as no warm-up time, no hazardous chemicals and a longer lifetime.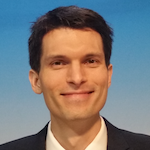 Fabian Hoelzenbein, IHS."This is an important tipping point for the lighting industry," says Fabian Hoelzenbein, market analyst for lighting and LEDs at IHS.
Hoelzenbein says that while word about the availability of the low-cost GE and Philips bulbs may still be an issue and that early adopters of LEDs sometimes found themselves with low-quality bulbs, the average consumer may no longer have a reason to choose CFLs over LEDs.
GE claims that sales of LED bulbs in the consumer lighting market will more than double this year. By contrast, it expects CFL sales to fall. By 2020, 50% of all residential light bulb sockets will be LEDs, GE says. Both GE's and Philips' low-cost LED bulbs are exclusive to the U.S., which could impact adoption rates elsewhere around the world.
Production Oversupply
The LED price drop is due in part to a production capacity oversupply as many Asian manufacturers flood the market with low-cost, low-quality bulbs. Low-cost manufacturing equipment makes it relatively easy for small-volume producers to jump into the market and cause an oversupply. A second factor is the drop in revenues that nearly all major western bulb manufacturers are facing in their traditional lamp business. As a result of these factors, bulb makers are racing to gain market share in the LED business, Hoelzenbein says.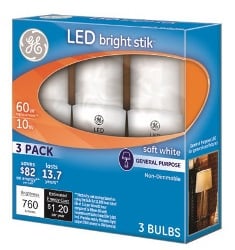 GEs Bright Stik LEDs are offered for $10. Hoelzenbein says he expects that all major LED bulb players will roll out similar offerings in the coming months as they seek to keep pace with GE and Philips, and as they move away from traditional bulbs to LEDs.
Hoelzenbein says that it is difficult to predict what will happen when the capacity overhang ends, but "as the technology is still evolving and we have not reached the maximum in terms of economy of scale, I would not expect prices to substantially go up again."
Quality Concerns
GE's Bright Stik bulbs are not dimmable and provide 76 lumens per watt compared to other bulbs that provide close to 100 lumens per watt. The GE bulbs also are rated for 15,000 hours lifetime compared to other LED bulbs that are rated 20,000 to 25,000 hours.
Philips A19 LED bulbs also are not dimmable and are offered in 60W and 100W varieties, rated for 10,950 hours lifetime. They provide 94.12 lumens per watt.
What this means is that GE apparently used medium-spec LEDs in the bulb and economized in terms of driver electronics, Hoelzenbein says. Philips likely did the same with its low-cost bulb, and so will other competitors if they hope to reach a similarly low price point.
Hoelzenbein says the GE and Philips bulbs are "still leaps and bounds above the low-quality Asian bulbs, and still compared favorably to CFLs."
Questions or comments on this story? Contact engineering360editors@ihs.com
Related links:
News articles:
Blues in the Light: Human-Centric Illumination Takes Hold
Infrared LED Market to Continue Growth
Usability Key in Smart Lighting Trends for 2015