The annual value for the industrial semiconductor market is forecast to rise to $55.2 billion in 2018, up from $34.8 billion in 2013, due in large part to increased capital spending by firms and continued economic growth, according to a report from IHS Technology.
The projected increase would represent a compound annual growth rate (CAGR) of 9.7 percent.
Factory automation, building and home control and commercial aircraft are driving increased demand for industrial semiconductors, according to the IHS report. Industrial semiconductor sales grew nearly 17 percent year-over-year in 2014, IHS estimates. In the third quarter alone, sales increased by 4.7 percent sequentially, IHS said.
Robbie Galoso, principal analyst for IHS, said through a statement that chip companies are paying more attention to the industrial sector because of the strong growth. "Chips are being used in applications that did not previously use semiconductors," Galoso said.
"Growth in the industrial segment has also been buoyed by a gradual acceleration in the global economy, which continues to boost industrial equipment demand, especially from the United States and China," Galoso added.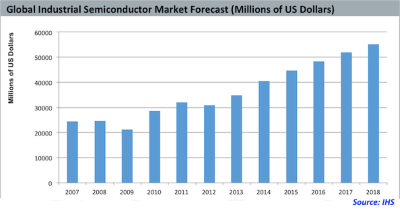 The world economy, which strengthened in 2014, is expected to flourish through 2018, according to IHS. The U.S. economy is expected to set the pace, with growth in gross domestic product (GDP) estimated to be between 2.4 percent and 3.1 percent per year through 2016, IHS said.
The U.S. accounted for 30.5 percent of all semiconductors used in industrial applications in 2013. China is the second largest industrial chip buyer, purchasing about 14 percent of all industrial semiconductors. Its economy will grow 7.3 percent in 2014, 6.5 percent in 2015 and 6.7 percent in 2016.
"Stronger economic growth and increased capital spending in the United States and China is good news for industrial semiconductor manufacturers because they are the leading purchasers of industrial semiconductors," Galoso said. "A solid economy and robust industrial equipment demand will further boost sales of optical semiconductors, analog chips and discretes, which are the three largest industrial semiconductor product segments."
Last year, demand was especially strong for optical LEDs, which grew by 23.4 percent, IHS said. Sales of discrete power transistors and thyristors were also strong, with revenue growth greater than 13 percent, IHS estimates.
Revenue from optical chips for industrial applications is forecast to grow from $8.6 billion in 2013 to $15.9 billion in 2018, according to IHS. The optical chip segment includes LEDs for general lighting, which now represent more than 70 percent of the optical category, according to the firm.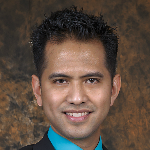 Robbie GalosoAnalog semiconductor revenue is expected to increase from $6.7 billion 2013 to $9.9 billion in 2018, IHS said. Revenue from discrete semiconductors is expected to increase from $6.4 billion in 2013 to $8.6 billion in 2018, IHS said.
Galoso said the robust growth in demand for industrial semiconductors over the next three years will be driven by a wide range of products and segments, including 3D printers, factory automation products, commercial aircraft, LED lighting, digital IP cameras, climate control devices, renewable energy products, medical electronics and wireless application-specific testers.
Questions or comments on this story? Contact dylan.mcgrath@globalspec.com
Related links:
IHS Semiconductors & Components
News articles: