PureLiFi Ltd. (Edinburgh, Scotland), a developer of visible light communication systems founded in 2012 and previously named PureVLC, has announced it has started shipping a commercial light-based local area networking system and raised £1.5 million (about US$2.3 million) in its latest round of funding.
PureLiFi said it started to ship the Li-Flame system to industry customers worldwide in the fourth quarter of 2014. Li-Flame comprises equipment that turns off-the-shelf LED light fittings into an alternative Wi-Fi system. It also comprises a battery-powered LiFi module that attaches a laptop screen. The system provides tightly beamed half-duplex communications with 10Mbits per second up and down links over a range of up to three meters. The system uses an infrared uplink to a ceiling-mounted receiver as the back channel.
PureLiFi was co-founded by Professor Harald Haas, who serves the company as chief scientific officer and Mostafa Afgani, who is the company's vice president of engineering.
Local money
The funding round was led by London & Scottish Investment Partners (LSIP), a Scottish-based angel group supported by investors from London and Scotland, with additional funding from the Scottish Investment Bank (SIB) and Old College Capital, the venture investment arm of the University of Edinburgh. The funding brings the amount raised to about $4.6 million, according to reports. A further venture capital funding round is in progress and PureLiFi said it expects to make an announcement in the second half of 2015.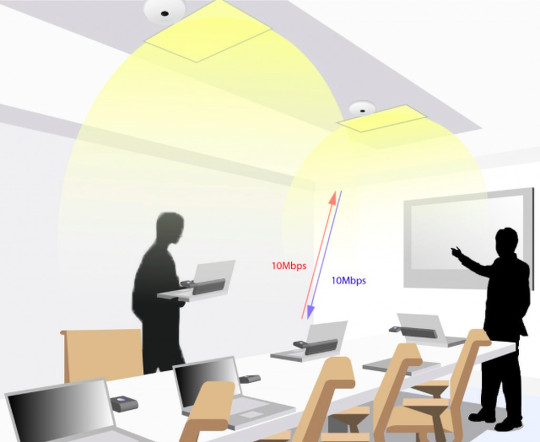 Multiple access points throughout an indoor space form an atto-cellular network, allowing users to move from one access point to the next without any interruption in its high-speed data stream. Source: PureLiFi.
The need to break into lighting circuit to attach light modulation equipment and to mount overhead receivers clearly makes visible light communications (VLC) less convenient than Wi-Fi. However VLC can provide a high data densities where data throughput over Wi-Fi spectrum is starting to become congested, the company argues.
With lighting systems made up of LEDs of different colors it is possible to modulate on multiple wavelengths thereby further increasing the density of data communications, the company indicated.
Another advantage of the Li-Fi system is that it enhances security. While visible light communications may have to be pitched as complementary to Wi-Fi in the domestic or work environment the technology could find use in helping automobiles to communicate with each other and road-side infrastructure.
"Li-Fi is increasingly viewed as a transformative technology that can change the way we use the mobile Internet as part of future 5G cellular networks and at the same time be an enabler of the emerging Internet of Things," said Professor Haas, in a statement.
Questions or comments on this story? Contact dylan.mcgrath@ihs.com
Related links and articles:
IHS connectivity and IoT research
News articles:
LED Lighting Promises More as Li-Fi Hits 10Mbps
Google Launches 'Thread' Smart Home IoT Protocol
Companies Pin Hopes on the Internet of Things