The first mass-market use of the two-dimensional form of carbon known as graphene appears set to be LED lighting. Graphene Lighting plc, a spinoff company from the University of Manchester in the UK, aims to commercialize a graphene light bulb that will be on the market within months, according to the university.
The university claims graphene lightbulbs will have lower energy emissions, longer lifetime and lower manufacturing costs compared with traditional LED bulbs. But according to Fabian Hoelzenbein, an analyst with the Lighting and LEDs team at IHS Technology, these attributes are unlikely to be as important as the quality of the light produced by the graphene bulb—which remains to be seen.
Standard LED bulbs often boast lifetimes of up to 50,000 hours, equivalent to 5.7 hours continuous operation or—in typical usage—a life of 20 years or more.
The University of Manchester is the place where Sir Andre Geim and Sir Kostya Novoselov isolated graphene in 2004, earning them the Nobel Prize for Physics in 2010. Manchester is also where the UK set up the National Graphene Institute (NGI) to become a center of excellence in graphene research.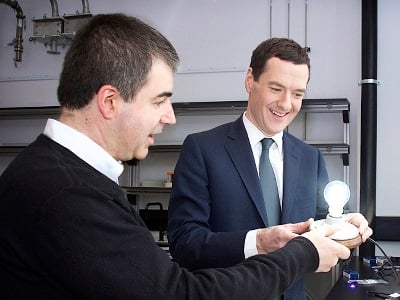 Sir Konstantin Novoselov (left) shows George Osborne, the UK's chancellor of the Exchequer, a prototype of Graphene Lighting's LED lightbulb.Although the university has not said much about the technology behind the graphene LED, it is reportedly based on a filamentary LED structure coated in graphene. The arrival of filamentary LED lightbulbs is one of 10 trends for LED lighting in 2015 predicted by Top Lighting and LEDs Trends for 2015, a document issued by IHS at the beginning of 2015.
LED filament lamps, which combine the benefits of LED lamps with the familiar design of incandescent bulbs beloved by traditionalists, are now starting to match other LED offerings in terms of efficiency, price and color-rendering capabilities. "Ultimately, it will be up to consumers to decide if filament bulbs will have their time in the limelight in 2015," writes William Rhodes, research manager of Lighting and LEDs at IHS, in the trends document.
"This [filament] type of LED lamp uses rows of many small LEDs on glass or metal filaments instead of a few higher powered LEDs like most traditional LED bulbs," says Hoelzenbein. "We have seen many LED filament bulbs enter the market recently, as these bulbs require less complicated electronics—which makes them potentially cheaper—and because they look a lot like the incandescent light bulbs many consumers are used to."
In regular LED filament bulbs, the LEDs are wired in series on the filament, which means each filament has a forward voltage of around 60 to 70V, compared to around 3 or 4V for regular LEDs. This bulbs require less complicated driver electronics to bring the mains voltage down. They also produce less heat, which removes the need for a heat sink, enabling LED filament bulbs to look more like traditional incandescent bulbs.
"Graphene Lighting claims that its graphene coating reduces energy use by 10% and increases the lamp's lifetime, while not being more expensive than other LED bulbs," Hoelzenbein says. "These are impressive claims on a technical level, but Graphene Lighting has so far not released any information about the light quality of their bulb. LED lamps do not have the best track record in terms of light quality, mainly light temperature and colour rendering."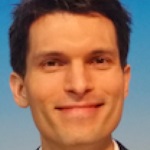 Fabian Hoelzenebin
More importantly, most consumers perceive that LED lamps are already so energy efficient that an additional 10% will matter little, according to Hoelzenbien. The same holds true for claims of greater longevity, since LED bulbs can last for 20 years or more, says Hoelzenbein.
"I think it is exciting to see one of the first real-world applications of graphene, but I can only see the graphene lightbulb having a real impact on the lighting market if it provides superior light quality as well as efficiency and longevity," Hoelzenbein says.
Questions or comments on this story? Contact: peter.clarke@globalspec.com
Related links and articles:
Top Lighting and LEDs Trends for 2015
Say goodbye to traditional light bulbs – the future is integrated
News articles: