Qualcomm Inc. has introduced two connectivity devices targeted at giving designers the capability of bringing Internet of Everything (IoE) applications to market in a cost-effective manner.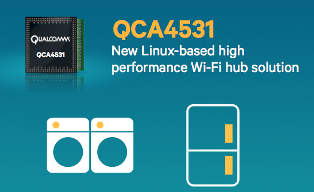 QCA4531-New Linux based high performance Wi-Fi hub solution. Source: Qualcomm.comThe QCA401x and QCA4531 devices allow for Wi-Fi and other broad-ranging capability to connect to other products in order to connect to the Internet intelligently, according to Qualcomm.
The QCA401x is designed for manufacturers looking to increase computing, memory and advanced features in IoE applications while lowering size, cost and power consumption.
The device contains a fully integrated microcontroller unit with up to 800KB of on-chip memory and interfaces to directly interconnect with sensors, display and actuators, the San Diego-based company says. The connectivity device also features communication protocols such as Wi-Fi, IPv6, HTTP and other cloud enablers.
The QCA4531 is a user-programmable Linux/OpenWRT environment for leveraging the Linux framework to the Internet of Things (IoT) devices and a hub to enable an IoE ecosystem, the company says. The connectivity IC brings together multiple wireless mediums and bridges devices between different IoE ecosystems. Qualcomm says the chip can function as an access point that supports up to 16 simultaneous devices and can enable appliances to meet international standards for energy efficiency.
Both devices are currently sampling.
Questions or comments on this story? Contact dylan.mcgrath@ihs.com
Related links:
News articles:
After Apple Win, NXP Gets NFC Deal with Qualcomm
Qualcomm Enters Competitive Fingerprint Sensor Market
The Ramifications of Samsung Using the 14nm Exynos AP in Galaxy S6
Qualcomm DevBoard Goes Raspberry-Pi Route