After a design win in Apple's iPhone 6 Plus, NXP Semiconductor NV (Eindhoven, the Netherlands) has announced that its near field communications (NFC) chips are going to be used across the breadth of Qualcomm's Snapdragon-based platforms.
NXP describes the arrangement with Qualcomm Technologies Inc. as a collaboration that will accelerate the adoption of NFC and security not only in mobile devices such as smartphones and tablet computers, but also in wearable equipment and Internet of Things (IoT) devices.
Qualcomm plans to include NXP's NFC and embedded secure element (eSE) technology across platforms based on Snapdragon 800, 600, 400 and 200 processors, NXP says in a statement. In particular, reference designs are expected to expand the use of NFC in home automation, automotive, smart appliances and wearables, NXP says.
NFC is a short-range wireless communications technology that operates on 13.56MHz carrier frequency. It can be used for simple data transfers, for access control and ticketing. But it is also used as the RF basis for payment systems and it was in that context of the Apple Pay service that the PN65V NFC controller IC was included in the iPhone 6 Plus. (see iPhone 6 Plus: $100 Costlier for Consumers to Buy—Just $15.50 More Expensive for Apple to Make).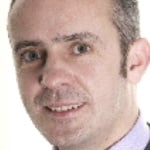 Don TaitNXP is the clear market leader in NFC chips market with about 50% market share in 2013, says Don Tait, senior analyst for digital ID and IT security at IHS Technology. NXP will have increased market share in 2014 with design wins such as the Apple iPhone 6, he adds.
Broadcom had a good design win momentum in 2013, when it was included in the Galaxy S4, but likely lost share in 2014 when it lost the Galaxy slot to Samsung's own NFC chips, Tait says.
Other vendors of NFC chips include STMicroelectronics, Renesas and Texas Instruments. In terms of secure element, the three leading vendors are NXP, ST and Infineon, according to Tait.
The global market for NFC modems in 2013 was worth $306 million and was estimated to be worth more than $400 million in 2014, according to the IHS' NFC report published in January 2014. Similarly, the secure element market was worth $288 million in 2013 and headed towards $375 million in 2014, according to the report.
Both categories were forecast to enjoy compound annual growth rates of more than 30% over the period 2012 to 2018. Taken together, the NFC market is expected to exceed $1 billion in annual sales.
The 2015 NFC report with revised forecasts is expected later this month from IHS Technology.
In the case of the iPhone 6, NXP's involvement was the supply of an NFC controller, including secure element, while AMS (Unterpraemstatten, Austria) provided an antenna booster IC.
In the case of the Qualcomm collaboration, the reference designs will feature NXP's NQ220 module, which was derived from the PN66T module that launched in November 2014. The PN66T includes the P61 secure microcontroller, and a "loader service" to simplify the deployment of credentials to devices.
"We continue to see the market use and acceptance of NFC grow daily, with new applications being created at an astounding rate," says Rafael Sotomayor, senior vice president at NXP Semiconductors. "By working together, each company is able better to focus on its respective area of expertise, ensuring the industry receives a best-in-class, robust, tested and certified solution that can be designed in quickly by OEMs with minimal effort."
The NQ220-based reference design is available from NXP.
Questions or comments on this story? Contact: peter.clarke@ihs.com
Related links and article:
IHS Digital ID & IT Security Research
NFC-Enabled Cellphone Shipments to Soar Fourfold in Next Five Years


News articles: