Cadence Design Systems Inc. (San Jose, Calif.) is launching the Fusion DSP configurable core and aiming it at applications that require a merged MCU plus DSP capability, but with low power consumption in a small footprint.
Typical applications include a wearable device with an Internet of Things (IoT) node that communicates with a host, such as a smartphone, over Bluetooth. Functions it is capable of include indoor navigation, context-aware sensor fusion, secure local wireless connectivity, face trigger, voice trigger and voice recognition functions.
Optional Instruction Set Architecture (ISA) extensions are included to accelerate multiple wireless protocols, including Bluetooth Low Energy, Thread and Zigbee using IEEE 802.15.4, SmartGrid 802.15.4g, Wi-Fi 802.11n and 802.11ah, 2G and LTE Category 0 release 12 and 13, as well as global navigation satellite systems (GNSS).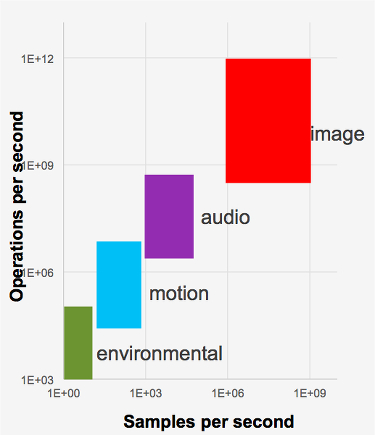 Xtensa Fusion DSP performance is aimed at efficient execution in the motion and audio domains. Source: Cadence.
Cadence describes the core as being capable of running three essential functions for IoT. These are sensing, local computation and communications.
Xtensa configurability means that application-specific instructions can be added in and the RTL design code, compiler and debugger support are generated for the customer. Cadence claims that the number of mask set respins caused by bugs in Xtensa processors since their debut in 1998 is zero.
With the Fusion DSP, Cadence is building on success in audio subsystems built on the Xtensa architecture, where it expects to ship 1 billion cores in 2015, says Gerard Andrews, senior product manager for audio/voice IP in Cadence's IP Group.
"We can start with audio and build out towards motion applications such as sensor fusion, which are generally less demanding computationally," Andrews says.
In addition, wearables IoT nodes do not usually have graphically rich user interfaces. "There's no keyboard, no mouse, no touchscreen, but audio is the interface," Andrews adds.
The Tensilica Fusion DSP combines a 32-bit Xtensa control processor with flexible algorithm-specific acceleration for a fully programmable approach. Fusion includes quad 16-bit MACs for real and complex math, AES-128 encryption hardware support and audio and voice compatibility with Tensilica HiFi architecture. The Fusion comes with a library of DSP functions and more than 150 audio/voice/fusion applications from over 70 partners.
"This means we can do voice-trigger out of the box, or run Hillcrest Laboratories sensor fusion software," says Andrews.
Although Fusion is classified as a DSP, it is capable of running legacy control software, Andrews adds. It has an Xtensa RISC core as well as dual-issue VLIW processors and is intended to compete in applications that might otherwise look to microcontrollers based on the the floating-point-capable Cortex-M4F from ARM Holdings plc.
"We do see it being deployed stand-alone or alongside a CPU on an SoC, where it can be the off-load DSP," said Andrews. Andrews acknowledges that differentiation will often come not from the DSP but from analog and mixed-signal functions an IoT system chip. "Cadence has a group that specializes in analog and mixed-signal."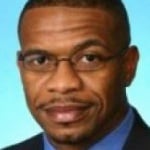 Gerard Andrews
"As synthesizable IP, the Xtensa Fusion DSP is completely portable, but where customers are looking at mixed-signal designs I see traction with customers at the 65nm node going to 55nm. For all-digital SoCs—where the analog is on another chip—I see customers going to 28nm mainly," says Andrews.
Questions or comments on this story? Contact: peter.clarke@globalspec.com
Related links and articles:
News articles: