Chinese fabless chip company Espressif Systems Pte. Ltd. is developing wireless chips for Wi-Fi, Bluetooth, NFC and Zigbee connectivity and thereby addressing the Internet of Things.
Founded in 2008, Espressif (Shanghai, China), has avoided licensing and using ARM cores so far, the almost automatic choice of many fabless chip companies, and instead gone with a customized Tensilica DSP licensed from Cadence Design Systems Inc. as a means to minimize power consumption, complexity and price.
The company has started with the ESP8000 family of Wi-Fi transceiver chips in 40nm manufacturing process technology. The single-chip wireless SoC ESP8266EX was launched at the beginning of 2014 and comprises a 32-bit MCU that runs at a clock frequency of up 160MHz, a 10bit ADC with high precision, TCP/IP stack, and all RF components. The IC comes in a 5mm by 5mm QFN32 package.
Espressif has attempted to provide comprehensive support for Wi-Fi and IoT applications with hardware, software, sample code, compiler and downloading tools well as maintaining an online discussion forum. The ESP8266 has been used for applications in smart-home appliances, home automation, industrial wireless control, wireless detectors and controllers using sensors.
In addition the chip has receive Federal Communications Commission approval and has acquired the CE certification for use in Europe.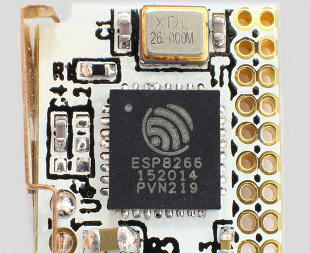 Pushing digital, mixed-signal and RF together in 40nm CMOS. Source: Espressif.
The ESP8089 goes one step further an integrates the RF components of the system in 40nm technology. This includes the RF switch, balun, a 24dBm power amplifier and digital control for a cystal oscillator. This allows a designer to add 802.11 b/g/n Wi-Fi, Wi-Fi direct and Miracast with a single-ship.
Following on from ESP8000 chipsets, Espressif is developing ESP6000 chipsets to target the game controller and wearable electronics markets.
The Xtensa processor, customized by Espressif, is used both as a DSP and control processor, with a real-time operating system that runs Espressif's WiFi and TCP/IP stacks and other application software.
"With a rapid customization of the 32-bit ultra-low power Xtensa processor, we were able to combine the control and DSP functions into one very efficient core, conserving power and area for these very space-constrained designs," said Teo Swee Ann, CEO of Espressif Systems, in a statement issued by Cadence. "We also utilized ultra-low voltage technology, dynamic frequency and voltage scaling, and an advanced power-control algorithm to achieve standby power consumption of less than 1.0-milliwatt and unrivaled 30-microamp RTC deep-sleep current consumption."
Questions or comments on this story? Contact dylan.mcgrath@ihs.com
Related links and articles:
News articles:
Cadence tweaks Tensilica Processors
Sub-Threshold Microcontrollers Arrive, Cut Power
Cadence CTO Rowen Forecasts Processor Design Split
MediaTek Rolls SoCs for Android Wearables, TVs