So the Apple Watch is finally (almost) here. You may now exhale.
At first glance, it might seem foolish to bet against Apple's history of marching into established markets and completely redefining them. But Apple's invasion of the wrist just may be a bridge too far.
As IHS Technology analyst Anotonios Maroulis puts it, "Apple needs to prove why consumers need a smartwatch to confirm this is a mass market product."
Apple says the Apple Watch is "incredibly accurate." In fact, it supposedly keeps time to within 50 milliseconds of UTC, the universal time standard. That's impressive.
Thing is, I already have a watch. It's a Timex (takes a lickin', keeps on tickin'). It seems reasonably accurate to me. I don't know that it's necessary for me to know the time to within 50 milliseconds of UTC, the universal time standard, particularly since I tend to run late, anyway. (People have grown accustomed to this tendency; having convenient and obvious access to the precise time would undermine years of expectation setting).
But, you ask, is my Timex a smartwatch? Well, it seems smart enough to me—in that I ask it to keep track of what time it is and, as I said, it does a reasonably good job at that.
Apple also says the Apple Watch is an "intimate and immediate communication device" and a "groundbreaking health and fitness companion."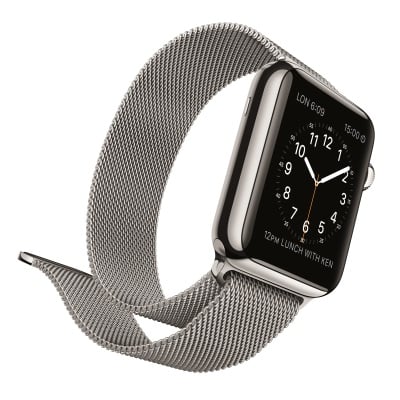 The Apple Watch. Source: Apple. Well, I already have a communication device; it's an iPhone, actually. I use it to send text messages, check email, surf the web, play Clash of Clans and, once in a while, make phone calls. I also, ironically, use it quite often to check the time. It's immediate enough for me, and as far as intimacy with an electronic device goes, we are as close as I am comfortable with at this point in my life.
As for fitness monitoring, I have a Fitbit. I wouldn't go so far as to call it a companion, but it does a pretty good job of monitoring my activity and exercise levels, not to mention my sleep quality. Sure, it needs to interface with my iPhone to report the results, but so does the Apple Watch.
Let's talk battery life. Apple claims the Apple Watch is designed to be worn all day and offers up to 18 hours of battery life. My Timex requires a new battery every one to two years. Admittedly, having the battery replaced is a hassle, but it doesn't happen frequently enough to rise to the level of annoyance. Point is, by requiring nightly recharging, the Apple Watch imposes a new burden on consumers that we aren't accustomed to. And I, for one, am running out of USB outlets.
Break the Bank
Then there is this business of retail price. Let's start at the high-end, just for kicks. As you have no doubt heard, you will have the option to purchase a version of the Apple Watch that is "crafted from custom rose or yellow 18-karat gold alloys," starting for $10,000. I have literally owned seven cars in my life that cost less than $10,000.
Admittedly, you can spend a lot more money on a watch (check out this article on Business Insider; there is actually one that supposedly costs $55 million). But if you find the idea of wearing a Rolex or even a Tag Heuer watch to be a bit on the pretentious side, you are going to love the dude who rolls into your office on April 24 showing off one of these bad boys.
There are two other tiers of Apple Watches—one priced between $549 and $1,099 (I've owned three cars priced in this range) and the Apple Sport, priced between $349 and $399 (I've owned one car that cost less). Bottom line, to slap one of these status symbols on your wrist without stealing it, you are looking at a minimum of $350 plus tax—far less than many luxury timepieces cost, but still significantly more than your average wristwatch.
Apple has for over a decade gone into markets with very well entrenched products and completely remade them. It has, more than once, decimated entire product categories (think: do you even know where that fancy digital camera you bought a few years ago is?). Maybe Apple will do the same thing here. By putting new capabilities in a wearable form factor, Apple probably will succeed in enabling new applications that maybe, just maybe, might make Apple Watch—or a less expensive Android version of a smartwatch—compelling enough to buy.
But something tells me this is a reach. Apple is looking for that new marquee product with the growth potential of an iPod, iPhone or iPad, and I just don't know that this is it. At the very least, I think it will take far longer for the smartwatch to become ubiquitous than it did for those products and the less expensive copycats they inspired.
Questions or comments on this story? Contact dylan.mcgrath@globalspec.com
Related links:
News articles: