Apple and Samsung will drive the value of the annual fingerprint sensor market fourfold to over $1.7 billion by 2020 according to the 2014 Fingerprint Sensors - Handsets and Tablets report published by IHS Inc., the publisher of Electronics 360. The number of fingerprint sensors to ship by the end of 2014 is forecast to be 317 million units and to reach 1.4 billion units by 2020.
The report states that fingerprint sensors are taking hold in the market as a means of confirming mobile payments and that Asia, specifically China, will be the next breeding ground for fingerprint sensors. The consensus has developed among handset, tablet and other equipment makers that the touch type fingerprint sensor is the most user-friendly approach and that this will dominate at the high-end of the smartphone product category.
Apple began the process by adopting a fingerprint sensor in the iPhone 5s. Although Samsung has yet to release a smartphone with a fingerprint sensor IHS reckons that will change in 2015. There is also support for fingerprint identity confirmation from financial companies such as Visa, Mastercard, PayPal and banks.
Potential suppliers to Samsung are Fingerprint Cards AB (Gothenburg, Sweden), Idex ASA (Fornebu, Norway) or its current supplier Synaptics Inc. (San Jose, Calif.), IHS said.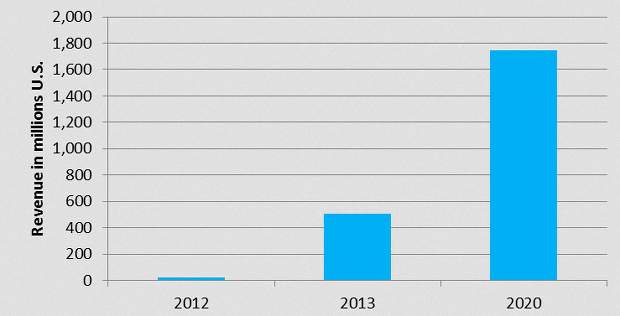 Fingerprint sensor revenue for handsets and tablets. Source: IHS
"This biometric market has all the requirements for success converging at the right time," said Marwan Boustany, senior analyst for MEMS and sensors for IHS, in a statement. "Technology, convenience, and consumer interest are just some of the converging interests ensuring the success of fingerprint sensors."
Huawei's Ascend Mate 7 was announced at the IFA consumer exhibition in Berlin this year and it incorporates a touch fingerprint sensor from Fingerprint Cards AB, specifically the FPC1020. This is the first large volume touch fingerprint sensor for smartphones outside of Apple, beating Samsung to this easier to use implementation. Huawei will not be alone though as other OEMs seek to use touch fingerprint sensors in the near future, including ZTE and other popular Chinese OEMs.
Related links and articles:
2014 Fingerprint Sensors - Handsets and Tablets report
News articles:
Apple Spurs Massive Growth in Smartphone Fingerprint Sensor Market
Exclusive Video Teardown: Apple iPhone 5s and 5c